Temporary Signs | Coroplast Signs for Exterior Use and Interior Signage
Brand consistency in each location
Expedited deliveries
Single supplier for all your needs
Graphic Impact web store can be supplied
Brand consistency in each location
Expedited deliveries
Single supplier for all your needs
Graphic Impact web store can be supplied
There are a number of names for coroplast signage. Sometimes called political signs, yard signs, screened signs, bandit signs, or plastic signs. These corrugated plastic signs offer durability indoors and outdoors. What a great advertising value! Graphic Impact prints these signs digitally and in full color. The printing system uses UV inks which is a great benefit. You can order one or a hundred. Output is photo-realistic and we can print on both sides. We then apply a clear finishing coat to the sign resulting in even more vivid colors and increased durability.
What is Coroplast Signage?
Coroplast signage of all types are made from a high-quality polypropylene twin-wall profile sheet. It is formulated specifically for use in the screen printing and digital printing display markets. Coroplast uses a copolymer resin to increase impact and low temperature performance. Copolymer resins are also used. They retain the ability to be flexed an unlimited number of times without breaking. We call this unique ability a living hinge.
Custom printed coroplast signage is fantastic for political campaigns, real estate, construction, churches, youth leagues, advertising signs and more. These digitally printed signs are available in sizes up to 4 feet by 8 feet. They are an excellent economical choice for yard signs or temporary signage. A standard sign is approximately 1/8 inch thick, but thicker constructed Coroplast is available too. Expect the signs to last up to 12–18 months under normal conditions.
Our Least Expensive Material
Corrugated plastic or Coroplast should be your choice for inexpensive material. You'll find the printing quality excellent. Coroplast will provide inexpensive, professional looking promotions for your company or organization. A Coroplast sign is easily secured to windows, doors or walls, exterior or interior surfaces, as well as secured into the ground with an inexpensive stake.
Corrugated plastic signs are an excellent substitute for poster board or card stock for interior applications. The surface is not affected by most oils, solvents or water, and cleans easily.
Plastic Coroplast signs provide a cost effective way to produce custom corrugated plastic yard signs and custom real estate signs. Corrugated plastic signs have hollow flutes that run either horizontally or vertically. Standard use is to have the flutes running vertically to allow for an optional Coroplast sign frame.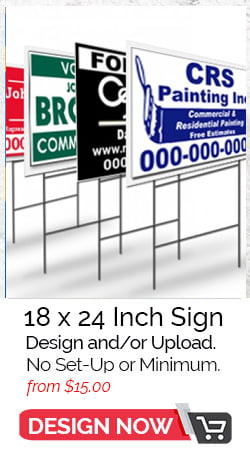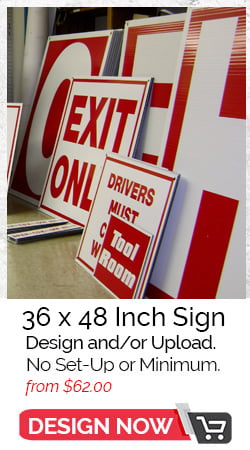 See our other sign types at our online design site, upload your own custom design, or use our large library of clipart, photos and images and then add text. There are also Coroplast sign templates available to help you out.
Call one of our designers at 520-795-7446 if you have any questions.