If you want to improve the foot traffic and drive by results you get from the use of feather flags, one of the easiest ways to do that is to focus on the design of your feather flags. Even small changes can make a big impact on your marketing success. If you go online to look for feather flag design tips, you will find some tips but nothing in-depth enough that clearly spells out the changes you should make in your feather flag printing projects.  Any relevant tips are usually mixed in with articles showing you how to create feather flag banners in graphic design platforms.
In order to make the process easier, we have put together an in-depth guide to help you better understand what you should include in your next custom feather flag project so you can achieve the best results.
5 Feather Flag Design Tips
As a company that performs feather flag printing on a regular basis, we have an experienced insight on what does or doesn't work when it comes to feather flag banners design.
Take a look at our Top 5 Feather Flag Design Tips that are proven to generate the best possible outcome when you use feather flags to promote your business.
Keep the design simple: You need to remember that feather flags are often viewed from a distance so it is vital that you keep the design simple and easy to read. You can accomplish this design task by using large, bold text and not giving the flag a busy look thanks to too many images or details.
Use contrasting colors: Make sure the text and images stand out through the use of contrasting colors. If the preferred background is dark, then use light-colored text (or vice versa). You can also use complimentary colors as well.
Incorporate your branding: Your feather flag should include the colors and logo of your brand to make it more recognizable. Consistency is key for successful branding, so your feather flag needs to match your other marketing materials.
Consider placement: Be sure and consider where your flag will be placed or staked and then create the design with the placement in mind.  The viewing distance could be a factor in the design or you might want to aesthetically blend the design with the surroundings.
Have a clear message: Your feather flag should convey a clear and easy to understand message or call to action. This can be achieved by making sure the text and images on the flag work in harmony to communicate your message and also compel the customer to take the desired action.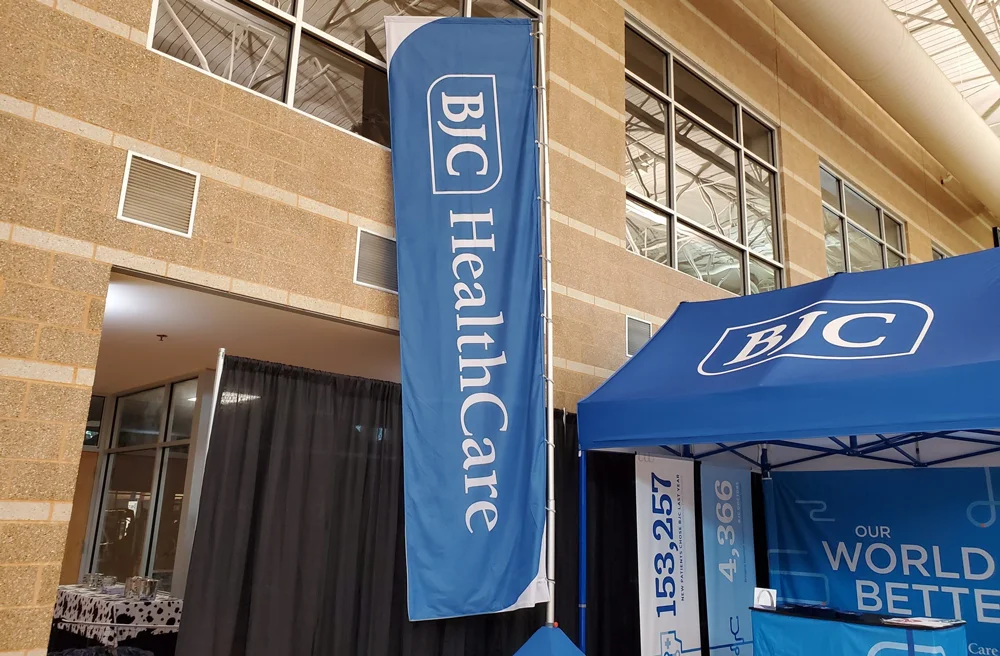 Can I Use Feather Flags Both Indoors and Outdoors?
Feather flags can easily be used both inside and outside of your business. You still need to follow the design tips we shared but you can also think about using different fabrics for indoor banners since they are not impacted by the weather.
In addition, indoor banners are often used for aesthetic purposes or for wayfinding. This is a good marketing strategy but consider any strategic elements that can influence how you think about the design for your feather flags.
How Big Should My Feather Flags Be?
We will start this section with the honest answer that your choices are usually limited to the standard set of sizes for feather flags.  However, the design can make a greater impact if it is on a larger flag in close proximity to the viewer. On the other hand, you need to consider the flag viewing distance for customers who are not close to it. If the flag is too small, it will be hard to read.
Please note these sizes are approximate averages. There are other sizes that we may offer so contact us to find out which ones.
2'-6" x 15'-5" (18.5ft from the ground to the top of the flag)
2'-4" x 11'-6" (14.5ft from the ground to the top of the flag)
2' x 9'-6" (13ft from the ground to the top of the flag)
1'-6" x 5'-6" (8ft from the ground to the top of the flag)
The amount of creativity you can put into your feather flag design is unlimited. No matter the scope of your design efforts, follow the tips we've shared here to generate the results you want from custom feather flag printing. If you need help, please give us a call.