ADA Braille Compliant Signs | Call Us At 520 795-7446
ADA Signs
ADA Braille Compliant Signs
Complete Interior and Exterior Signs Including Braille Dots, Raised Letters and Digital Graphics.
There are a number of different methods available. Each has advantages and all will give you great results. There is No Set Up Cost and No Minimum Purchase Required. These ADA Braille Compliant Signs Meet All Federal and State Requirements.
Pinted Braille
Printed Compliant ADA Signs
Braille sign printing that offers the unprecedented option of either first-surface or second-surface graphics when creating raised-texture signage on acrylic substrates.
Also tested on aluminum and PVC and with some sustainable materials making this product environmentally friendly. Delivery in as little as 1-2 business days with no minimums and no set-up fee.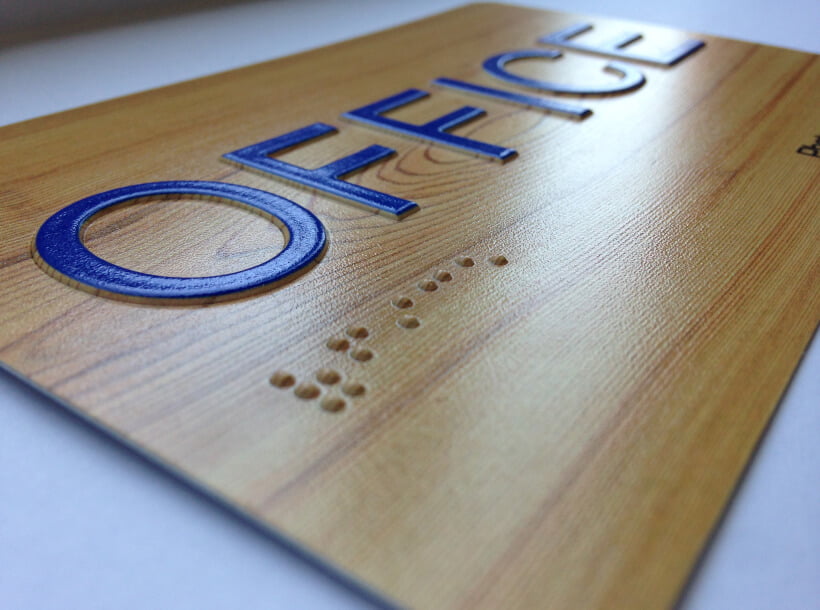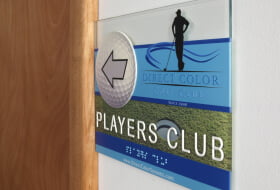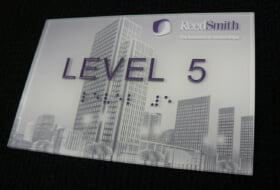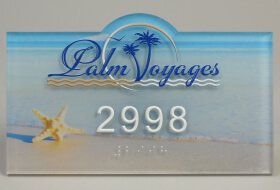 Raster Bead
The raster bead ada method has emerged as the preferred process for creating tactile/Braille signage for the blind and visually impaired. The process is quite simple: our router drills holes into the substrate, and the Raster Braille Tool automatically inserts the spheres. Because the spheres fit perfectly into the holes, the resulting Braille is resistant to wear and exceedingly durable.
The project is completed by digitally printing your design on the back surface. (if clear acrylic is fabricated).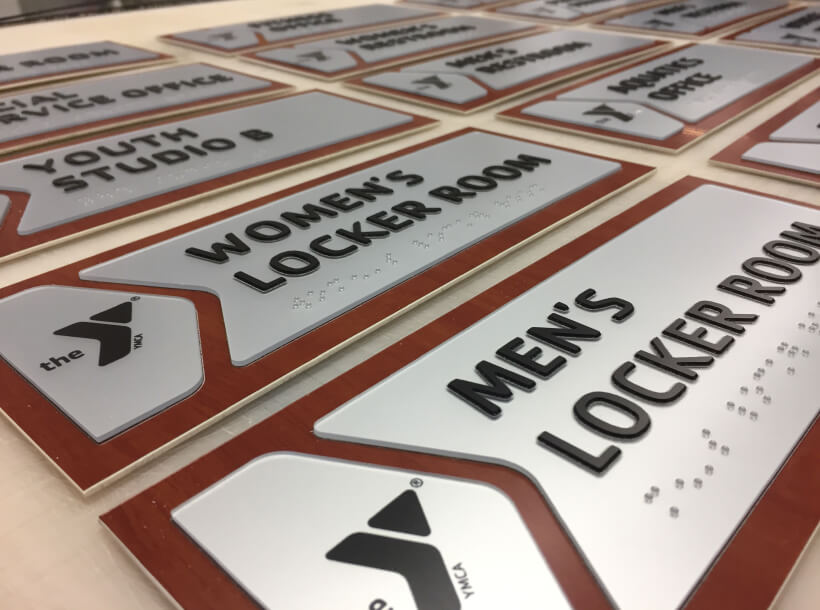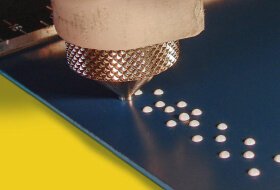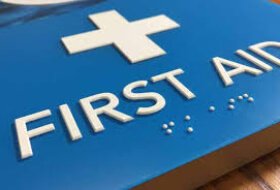 Photo Polymer
Photopolymer ADA signs are a one piece integral sign, thus, standing up to vandalism better than the rest. Nothing is absolutely vandal-proof and almost any sign can get damaged or destroyed. But, your vandals have to work very very hard with photopolymer fabricated signs to do so. The signs will remain on the wall and intact… keeping your wayfinding ADA compliant.
To create tactile elements, the Photopolymer resin is exposed to UV light using a high relocation film negative. This combination allows for very detailed raised graphics and elements.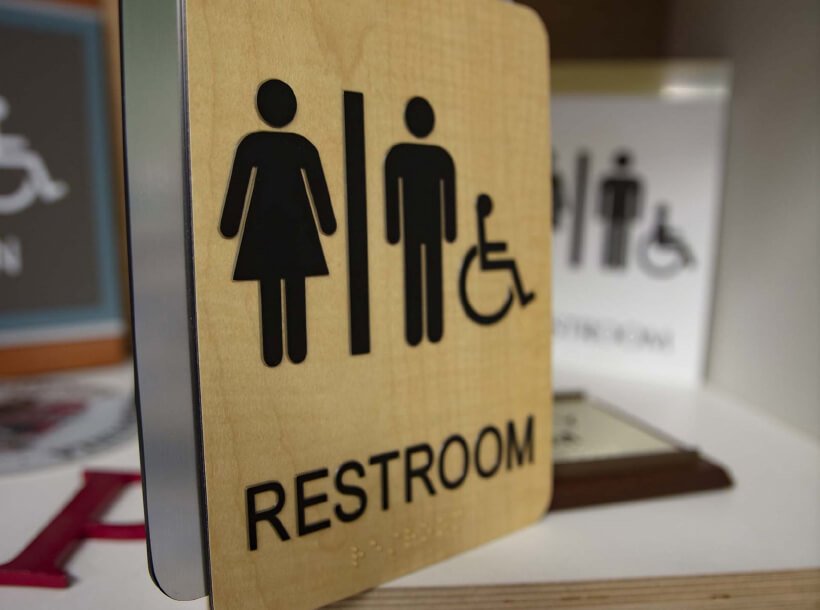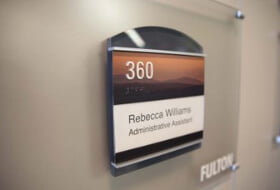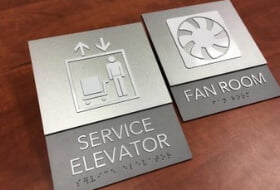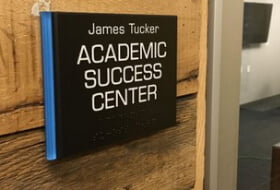 ADA Signs, customized and Braille Compliant
Custom ADA Braille Signs are designed to meet the requirements of the Americans with Disabilities Act. They are available in various designs and styles to suit the needs of different businesses.
The most common types of ADA Braille Signs are Raster Bead, Printed Braille, and Raised Letters.
Raster Bead Signs are made up of a series of raised dots that form a grid. This grid can be customized to form any desired design or message. Printed Braille Signs are made by printing the braille dots onto a substrate. Raised Letters are made by raising the letters of the alphabet above the surface of the substrate.
Custom Printed backgrounds can be added to any of these types of signs to create a unique look for your business.
What is an ADA Sign with Braille That is Compliant?
The term "ADA Signs" has come into everyday use in the architectural, construction, and signage industries with the advent of the Americans With Disabilities Act, or ADA. The Americans with Disabilities Act regulates accessibility and includes requirements for signage conveniently located and easy to read visually and through tactile touch.
In common parlance, "ADA Signs" is often synonymous with braille signs. Signs with braille and raised characters are the most visible manifestation of the law requiring access to the built environment. Still, the sign standards in the ADA Accessibility Guidelines (or ADAAG) require much more than just braille and raised characters on some signs.
The ADA dictates three broad categories of requirements.
 Whether or not a sign is required
 Sign design requirements, including font, spacing, and similar details
 Precisely where a sign must be installed, and broad requirements dictating where signs may not be installed
In general, almost every sign that would be considered an "architectural" sign must comply with one or more of the ADA Guidelines.  If a sign identifies a permanent room or space of a facility (including exits), directs or informs about functional areas of the facility, identifies, directs to, or informs about accessible features of the facility, it must comply. Signs for advertising and marketing purposes, temporary signs, company logos, and names are examples of signs or sections that do not have to be compliant.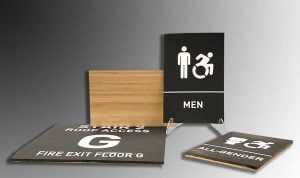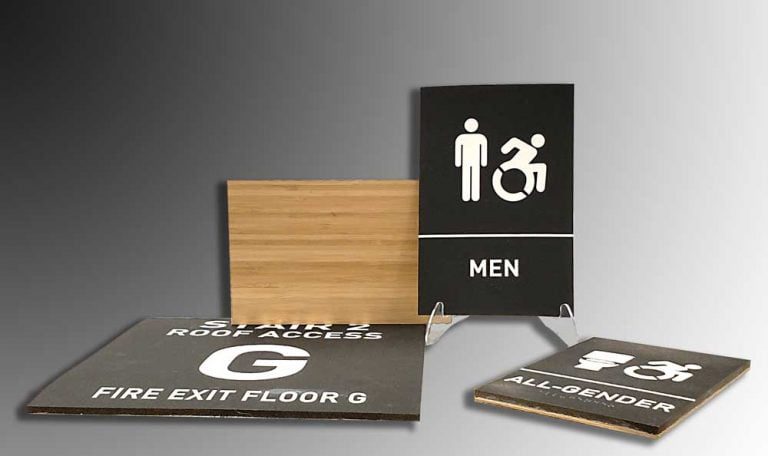 Graphic Impact, located in Tucson, AZ, has several processes available for Custom ADA compliant signage.  This includes digitally printed dimensional signage, "green" sustainable signage, and much more.  We can work hand in hand with designers and architects or serve as the project lead.  As experts in the field, and with our 32 years of experience in the area, we are uniquely qualified to partner with you on your next project
.
Find out more about different types of ADA signage
See what our customers are saying about us!