Fabric Hanging Banners With A Soft Feel And Elegant Look
When it comes to drawing attention to your business or organization, fabric hanging banners are an excellent option for any event or retail display. Not only are they affordable, but they're also highly effective at making a big impression with your message. These banners offer a cost-effective solution that is perfect for any budget-conscious business and has the added benefit of being easily customizable to suit your specific needs. Whether you need them to advertise a sale or an event, fabric-hanging banners are the way to go!
Custom Fabric Banners With Upscale Look
Are you ready to make a statement and get noticed? Our custom fabric banners are available in a wide array of sizes, shapes, and colors to suit your individual needs. As a business or organization, you can showcase your custom logo and designs on your very own banner, making you truly stand out from the crowd. At our company, we believe that a custom banner is much more than just a decoration. It is a perfect opportunity for your company or organization to showcase its unique personality and message. So start designing your custom cloth banner today and get ready to leave a lasting impression!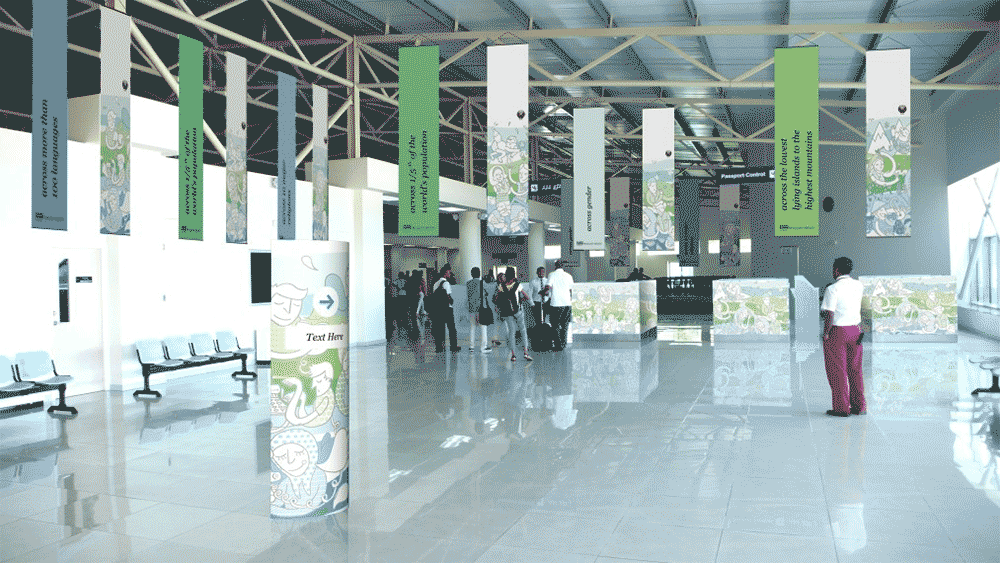 The Look Of Fabric Banners That Hang From Ceiling Fixtures
Hanging fabric banners can be be seen in shopping centers and malls.  The lite weight of the fabric banner makes this the perfect choice.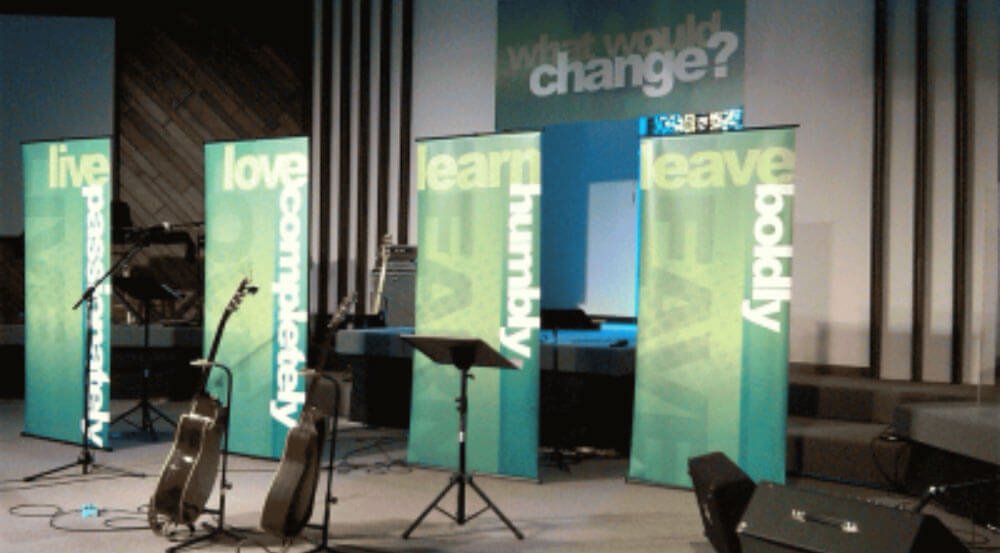 Retractable Fabric Banners. Separate Or As A Backdrop.
A pull-up fabric banner by Graphic Impact is versatile.  As a backdrop, easy to take to almost any exhibit, and lite weight.  Easy to replace banner.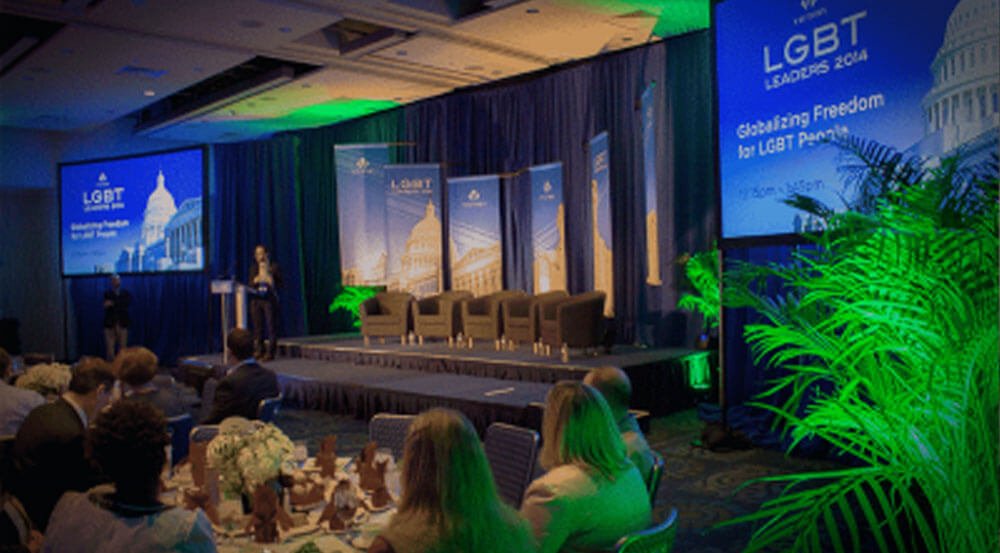 The Fantastic Look Of Translucent Banners Cannot Be Duplicated
Fabric makes a unprecedented look of quality.. The material is normally translucent  meaning when placing a light source there is a fantastic look.
When are fabric banners my best choice?
Consider fabric banners when you are looking for backdrops, window displays and interior design specialties. An excellent choice compared to traditional banners when looking for a vibrant indoor display. We use a direct to fabric digital printing system. Offering a heavier feel, lasts for a longer period of time and resists fading. Banners are normally fabricated with hems and possibly pole pockets or grommets. Our wide format printers allow virtually unlimited length with widths over eight feet wide. We print vibrant colors directly to the fabric using high resolution inks specifically for fabric banners Even double sided prints are possible with a block out material to limit see thru.
  Because we use white inks we even print on dark color fabrics
Events where you'll see a fabric banner
Think about all the amazing events you get to attend where you'll have the opportunity to see a stunning fabric banner! What an exciting prospect! These banners are more than just simple decorations, they are powerful tools for communication and advertising. Imagine the impact your message will have when it is displayed on such a large and eye-catching banner! Every time you see one, think about the countless people that are being exposed to an important message, or the brand that is being promoted in a creative and innovative way.
Keep your eyes peeled for fabric banners and let them inspire you to get creative with your own marketing and messaging strategies. The possibilities are endless! The finish of our banners is beautiful and sophisticated and has a soft feel. We make it possible for you to display a durable, versatile and elegant sign which is still economical.
Advantages of digital printing
Banners by Graphic Impact are less expensive! Sublimation at one time was the only fabrication technique. The method is labor intensive and deliveries are long. Therefore, Most businesses thought that that custom banners were plastic material with a sheen. The type you see hung at birthday parties or above stores to advertise a special sale. Not true any more! Vinyl banners remain the material of choice for promoting sales, grand openings and open houses. While fabric banners should be used for a more elegant look for interior applications. Both types are available in any height or width.
After a while, a fabric banner hanging indoors or outdoors will inevitably get dirty. Whether it is a fabric or vinyl banner, you have to clean it occasionally. You can wash fabric banners in cold water on the gentle cycle and tumble dry on low.
Before washing the whole banner, start with spot cleaning to ensure that the fabric is suitable for washing. Use a mild soap and cold water and test a small spot first in a less than obvious spot. If you see no damage to the color or material of the banner, you can proceed to wash the whole banner.
If the size of your fabric banner is not too big, you can wash it in the washing machine on a gentle cycle. Use the permanent press cycle and cold water wash for a machine-wash polyester fabric. You can use an all-purpose detergent for cleaning and fabric softener to reduce static electricity.
After washing, hang or spread out the banner to dry. Alternately, you can dry the banner in a dryer as well.
Steam cleaning is one of the easiest methods for cleaning fabric banners. But you will need a good quality steam cleaning appliance with an upholstery attachment. You can start cleaning from the top and work your way down. If you notice that the steam is making the fabric wet, hold the device further away. It is also important to follow the safety instructions as steam can burn your skin.
Once you have washed the banner, you can iron out any wrinkles. Remember to start with a small portion of the banner at first and use the lowest setting on the iron. This is a precaution to prevent any damage to the banner which is not suitable for ironing.
Fabric Banner Printing Services
We offer professional fabric banner printing services that will get noticed. Contact us today to learn more about our banner printing services.