Custom Signs, Banners, Printing, Apparel, Promotional Specialties & Awards
Graphic Impact is a Tucson company. Our roots are small but our scope is wide as we serve the local Tucson community, State of Arizona and across the country with all types of printing.
Create your own design on our website for many of our printed items and custom signs, or download your designs to us. We also partner or take the design lead if you want to lean on our 30 years of printing expertise. Whichever you choose we are there to help you. You'll be supported by the most knowledgeable staff with the best service reputation in the industry. Our customers say our product turnarounds make others seem slow and 'MADE HERE' means higher quality, better attention to your details and low, managed costs.
Get the benefit of the best in this business working for you. Get Graphic Impact!
Family Owned & Operated with most products made in our state-of-the-art Arizona manufacturing facility!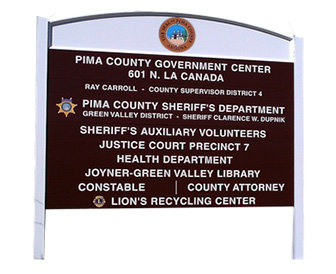 Signs & Banners, All Types
Fantastic Color and Durability. Any Size or Shape. From the simplest of banners to those over 100 feet. Fast delivery from a local company!  Tucson's largest.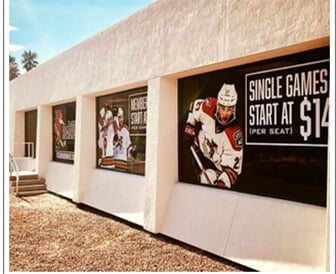 From huge to small, with over 100 types of material. On windows, sidewalks, and on any type of product imaginable. Full color and no minimums.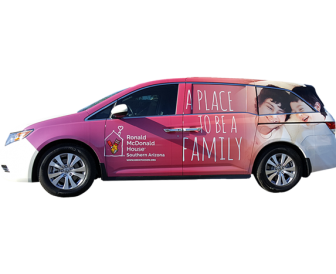 Vinyl graphics and sign magnets put a moving billboard to work for your business or organization. From complete wraps to fleets to simple graphics.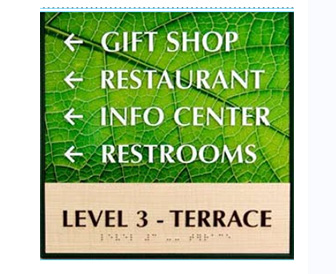 Signs with a full color background and even a raised logo. Each can have a different background and cut to any size and shape. This changes everything concerning design options with Braille signs. and customized architectural design.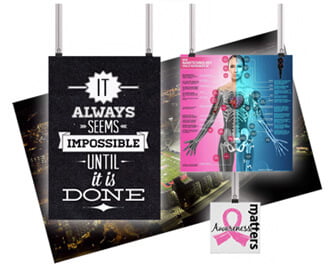 Hundreds of Printed Products Available. Our six digital printing presses allow us to print almost any size, shape or thickness with spectacular color and definition. In-house fabrication and printing allows us to produce everything in house.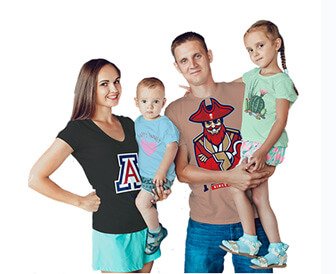 Not your basic custom apparel! Clients love the look. Our products have photo rich quality and a soft feel. Your favorite photo or design printed on white or dark colored shirts and more. Why not design your own UA apparel?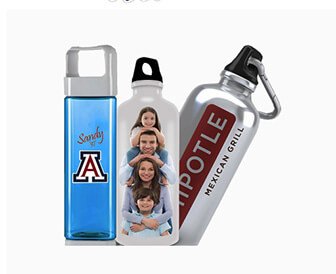 Custom Drinking Bottles of All Types
Amazing NO MINIMUM, full color drinking bottles. Do you have a favorite photo, design? How about a custom University of Arizona bottle? Download design or design on-line.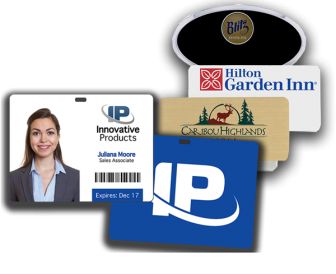 Name Tags and Name Badges
Name Tags are a Direct Reflection on You and Your Company. Full color and lasered to any size or shape! Security ID tags with no minimum and highest resolution in the industry.
Metal, Acrylic, Canvas Prints
Leading Producer Brushed Metal, Acrylic and Aluminum Prints, and Wall Murals. Favorite of artists and professional photographers. Design your own or purchase artists' prints.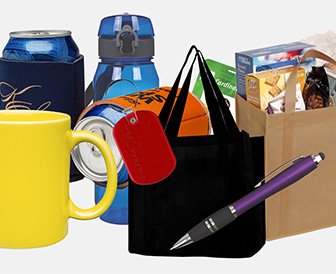 We are both a producer of promotional specialties and have partnered with manufacturers throughout the country so that we have one of the largest variety of products available anywhere.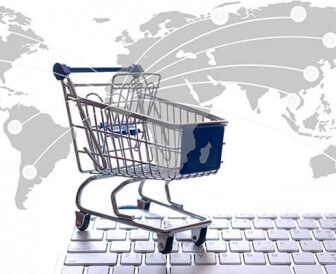 We will design, manage and revenue share a private web store for your school, company or organization. Stocked with branded merchandise and Graphic Impact does all the work.
Graphic Impact is an in-house manufacturer of awards and plaques. From the least expensive to custom awards that are unique in every way. Printed, lasered and dimensional.