Our most popular INEXPENSIVE sign. Any size! Cut to Shape! Print 1 to 1000's in full color. Your order will be ready next business day.
Coroplast Signs, Our Least Expensive Signs
Design Your Own Custom Coroplast Signs.  Have Your Design or Need Assistance From Our Award Winning Design and Support Team?  We Are as Close As Your Telephone.
"A" Frame Inserts Are Simple to Change Out. Double Sided, and Full Color
"A" Frames are one of the best marketing investments you can make. Coroplast for the inserts. Full color eye-popping designs. Inexpensive and easy to change.
Least Expensive Signage. Perfect for Temporary Use Such as Special Events
The perfect choice for temporary signage. Great for interior use and limited use outdoors. Great color, any size or shape. No minimum purchase is required.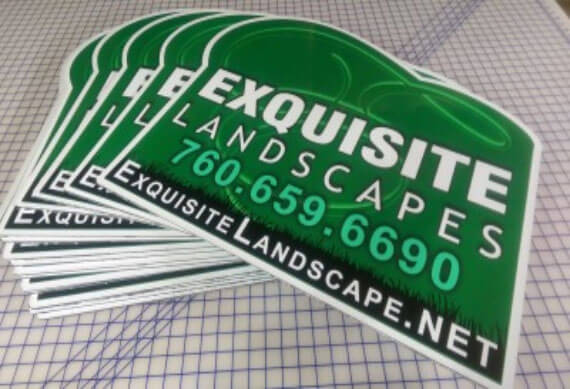 Eye Catching, Full Color Displays With No Minimum Purchase Necessary
Graphic Impact Digital printing producing the highest detail and most vivid colors. Any size or shape. Local business founded in 1989. Over 10,000 clients.​
Interested in Designing Your Own signs?
What are the advantages of coroplast (corrugated plastic) signs?
There are a number of names for coroplast signs. They are called political signs, yard signs, screened signs, bandit signs, or plastic signs. These corrugated plastic signs offer durability indoors and outdoors. What a great advertising value! Further, Graphic Impact prints these signs digitally and in full color. The printing system uses UV inks which is a great benefit. Order one or a hundred. Output is photo-realistic and, additionally, printing can be done on both sides. Then a clear finishing coat to the sign is applied resulting in even more vivid colors and increased durability. DESIGN YOUR OWN RIGHT ON LINE, order by phone, or visit our showroom.
How are Coroplast signs Made?
Signs printed in our Tucson facility are made from a high-quality polypropylene twin-wall profile sheet. Further, these signs are explicitly formulated for screen printing and digital display markets. Coroplast uses a copolymer resin to increase impact and low-temperature performance. Copolymer resins are also used. They retain the ability to be flexed an unlimited number of times without breaking. We call this unique ability a living hinge.
Cheap signs? Yes, but fantastic look and quality
Our least expensive material! Corrugated plastic or Coroplast should be your choice for inexpensive material. The printing quality is excellent. These cheap signs will provide professional looking promotions for your company or organization. Our signs are easily secured to windows, doors or walls, exterior or interior surfaces, as well as secured into the ground with an inexpensive stake.
How are coroplast signs used?
Coroplast is chosen mainly as a temporary sign.  These cheap signs can be used outdoors but only for a limited time.  Use them for events, limited times directionals, political campaigns, and retail advertising.  One of the real estate agents' best friends.
Find out more about Graphic Impact by CLICKING HERE!