UArizona Products
Licensed Supplier for UArizona Products
Rely on Graphic Impact to supply approved and licensed products to the University of Arizona. From promotional specialties to interior directories and office signs. From the largest exterior signs and displays to banners and awards.
We are a local family business founded in 1989 and have been working with the University for over 30 years. Call us at 520 795-7446, ask for a quote, or use live chat.
Signs and Banners
Signs and Banners (any size), with Deliveries That Can't Be Beat
In-house production of all types of signs and banners. Including street banners, any size of vinyl outdoor banners, textile banners for displays and pull up banners for exhibits. Any size or shape sign without a set-up charge that meet unrealistic delivery dates.
Any size canvas, acrylic and aluminum photography and artwork reproduction is a specialty. Need inspiration? We have plenty of images and UArizona artwork to help.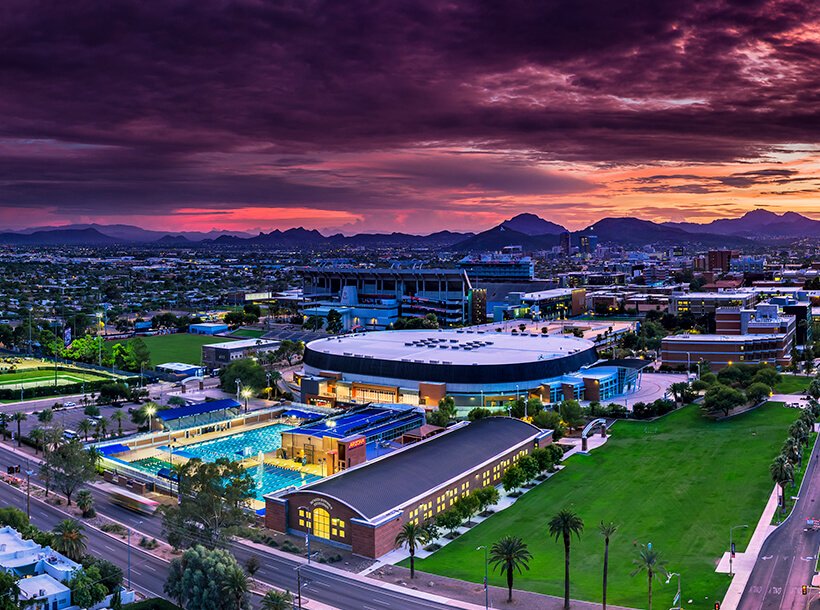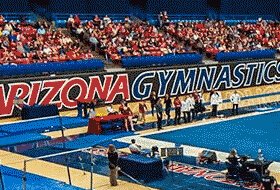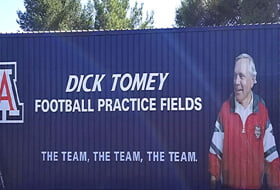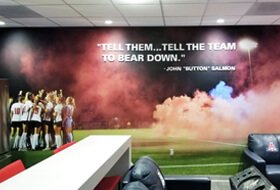 Promo Specialties
Promotional Specialties... Manufacturer and Distributor
We are proud to have been selected by the University of Arizona as one of only a few companies to be approved to sell promotional specialties campus-wide.
WE ARE A LOCAL MANUFACTURER, WE HAVE BEEN A SUPPLIER FOR OVER 30 YEARS, AND WE ARE A SPONSOR OF UARIZONA ATHLETICS.
What this means Is that we put this experience to work by helping you design the perfect UA promotional specialty product. Since we are also a manufacturer, we will decide whether to fabricate your project in house or coordinate it through one of our preferred distributors. Then your design will be reviewed by our experts and submitted to the UArizona for approval.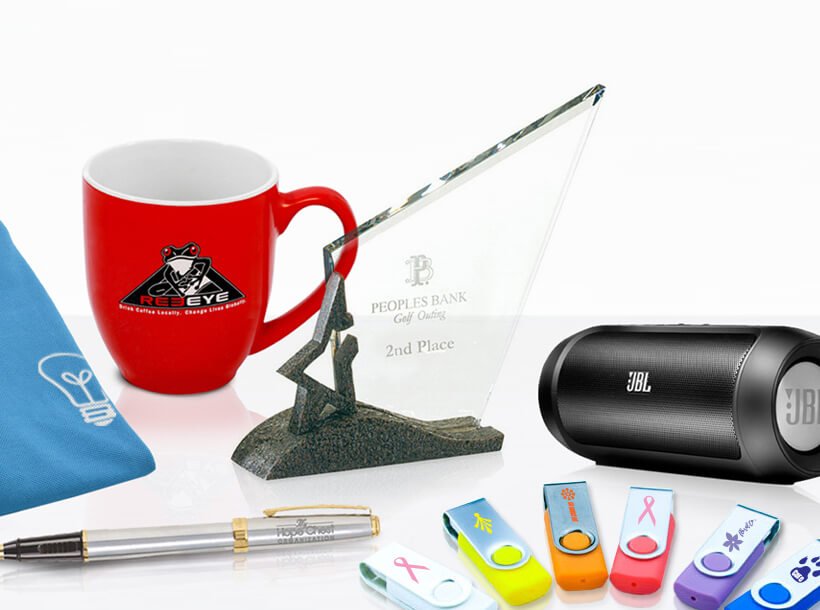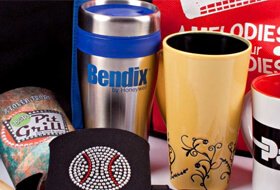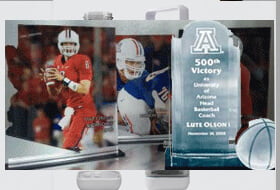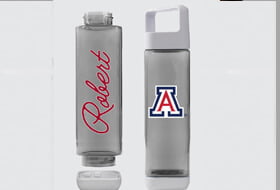 Apparel and Awards
Approved Supplier of Awards and Apparel
Graphic Impact is a local supplier of custom awards and apparel, and accessory products of all types. You can custom design your Tee Shirt right online, brand a backpack or your favorite shirt, and so much more. No longer do you have to settle for an "off the shelf" product. More good news! There's never a set-up cost, and there is no minimum quantity required.
This is a significant advantage of dealing with a local supplier that has been licensed and approved by the University.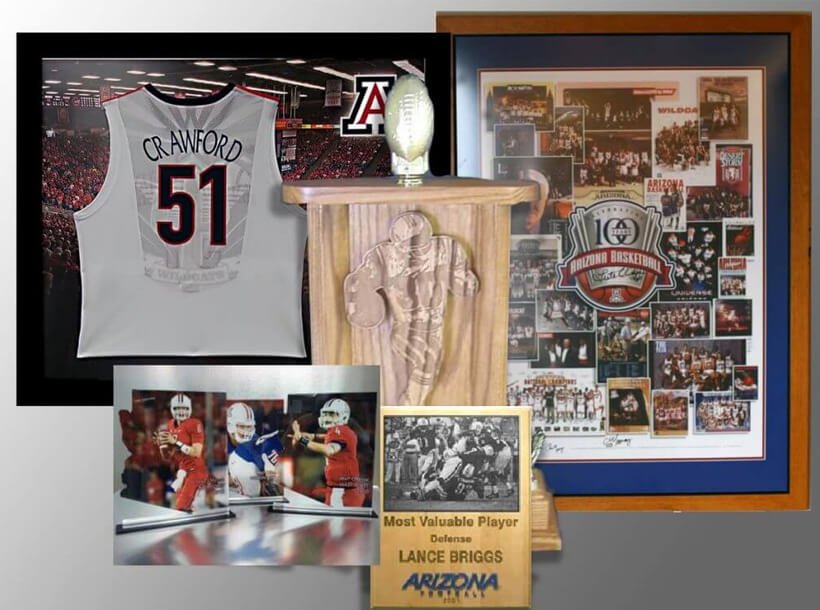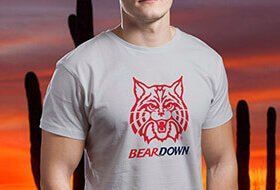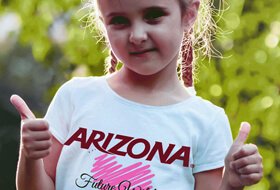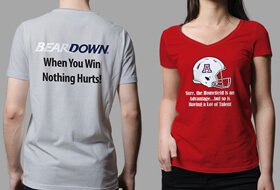 University of Arizona Apparel, Signs, Banners, Prints, Engraving and Promotional Specialties
How to Create a Unique University of Arizona T-Shirt
Graphic Impact offers a wide range of t-shirts, hoodies, sweatshirts, and caps that you can customize with UA logos according to your preference. You can add your own text, images, and designs to create unique t-shirts that represent your individuality.
Whether you are looking for a gift for a friend or family member, or you want to show your support for your favorite team, University of Arizona t-shirts are the perfect way to do it. You can also use them to show your school spirit or to promote your business.
Customized t-shirts are an excellent way to show your personality and to express yourself. With University of Arizona t-shirts, you can do just that.
How to Get Your UArizona Logo Printed on Almost Anything
Graphic Impact is excited to announce that we can print University of Arizona logos on almost any type of material. This means that you can have your school spirit on display in any room of your home or office.  We also offer a variety of different printing techniques, so we can help you choose the option that best fits your needs.
Our team of printing experts will work with you to create the perfect custom product, whether you need one item or a thousand. Contact us today to get started on your order!
If you're a fan of the University of Arizona, this is a great way to show your support. And if you're looking for a unique gift for a UA fan, Graphic Impact can help you out. Contact us today to learn more about our UA logo printing services.
We Digitally Print Official University of Arizona Brands On Any Number of Products. Design Some On- Line.
Graphic Impact is an official licensee of the University of Arizona and is approved to fabricate prints of all types including, canvas, aluminum prints, and brushed metal prints. We are also a supplier of posters and note cards. On some products we've made it possible for you to be the designer as well. Check out our page HERE There are plenty of University of Arizona logos, photos and clip art from which to choose.  If you have a favorite photo or design you can simply upload it to us.
We also fabricate wood plaques and glass or acrylic awards
Our signs can be printed onto any rigid substrate in full color, at high resolution, with photographic quality.
Our banners can be seen throughout the campus. These can be fabricated on either vinyl or fabric up to billboard size.
We produce posters at any size and with photographic quality.
Preferred supplier for University of Arizona club sports apparel printing and other products
Do you have a UArizona club logo? It's one of our specialties, and there's no minimum requirement or set-up fee. The soft feel of these shirts makes a big difference in the wearability. As a preferred vendor of the University of Arizona, we produce everything in-house and your University of Arizona T-shirts will be ready when you are.
The University of Arizona's Best Source For High-Quality Signs and Banners
Graphic Impact is a proud producer of signs and banners for the University of Arizona. We have been a trusted partner of the University for over 3 decades. 
We have a wide variety of products that can be used for all sorts of events and purposes. From vinyl banners to mesh banners, feather flags to pull up banners, we have everything you need to make your event a success!
We are proud to support the University of Arizona in their efforts to provide a world-class education to their students. We are committed to providing the highest quality products and services to our customers, and we are proud to be a part of the University of Arizona community.