Trade Show Displays and Exhibits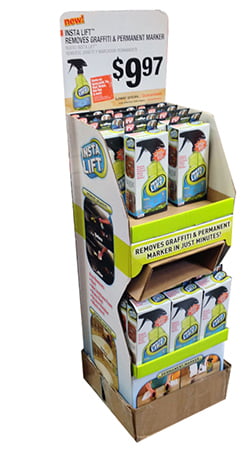 We design and fabricate structures for exhibit displays, trade shows booths and backdrops for a variety of applications. Have you every been to the theatre and seen a display in lobby advertising a coming attraction. You've wondered, how did they do that? Graphic Impact designs and produces trade show displays and trade show exhibits. Almost any size, shape colors, images and text is possible. We make them with corrugated material. Printed in full, photo realistic color, and shipped flat, ready to assemble and low freight charges. Easy to change out sections of the display and very inexpensive. A custom exhibit display by Graphic Impact is sure to create the attention for which you are looking.
Trade Show Displays from Us May Change the Way You Plan for Your Next Exhibit Display
Graphic Impact Trade Show Displays & Exhibits, because they are eco-friendly can be recyclable and even disposed of after an event! You may find that, with our low production costs, it may be possible to have a completely new exhibit for each event, thus avoiding costly shipping and set-up costs. You're going to love this new process. And we are the manufacturer. We are not a sourcing house or an advertising agency. Thus you deal directly with the people that make the product. No middleman meaning you save money. Design assistance available.
Graphic Impact, a Tucson, Arizona founded and operated company  has over 30+ years of experience in trade show marketing.  That's why we know how to make your custom exhibit display a hit of the show.  We are located in a 15,000 square foot facility with the latest technology.  We fabricate products that will enhance your look and significantly reduce your expense.  We are your single source for innovative, quality exhibit displays,  booths & banner stands, and provide you with outstanding customer service. Friendly to the environment and your project can be completed in days instead of weeks.