Our Digital Signage Will Get the Job Done.  And Many Times Without a Monthly Leasing Charge.
Signage in a corporate headquarters, restaurant or a healthcare facility doesn't have to be dull.  But it does have to draw attention, communicate messages and look professional.  And that's where Graphic Impact comes into the picture.  We design, install, and maintain digital lobby signage.  And in ways that you may never have thought of before.  Here's how …
What do you Mean Design?
We have over 25 templates available for digital lobby signage, or we can design you specifically for your requirements.  First we design a screen in different sections.  For example one section is for names of offices, departments or activities.  A second section of the screen is dedicated to announcements or the welcoming of special visitors, a third section might be dedicated to important news worthy events, new product announcements or company happenings and the last area might give weather reports, traffic or even something as simple as a QR code taking you to your organizations website.  We can even add a news feed or announcement that run along the body of the screen.  We can design the monitor into as many parts as you wish and not all areas have to be the same size.
What do you Mean by Installation of the Digital Lobby Signage?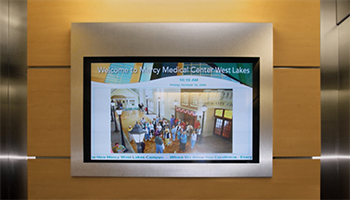 Our lobby signage communicates over the web and is cloud based.  We can either install it by direct connection (wired) or wireless.  Any size screen can be made part of the system, since the interface is only a small box that attaches to the back of the monitor.  That is where your software resides.  If there is a power failure, no data is affected.  We do a site survey with you and find the best location.  There is no monthly lease fee, which is unique since there is only one payment and it's a lot less than you would expect.
And What is Maintenance?
Many clients want us to be available to make modifications to the template and software of their digital lobby signage.  For example, add new tenants, change lobby messages. Or maybe even a new product or so.  Upload time is about an hour.  Unless there's new design work that need to be done.  You may even want to make the modifications your self.  And we can show you how.  By the way, we do manufacture a complete line of architectural, way finding and outdoor signs as well.  Learn about them
HERE
!
Have questions?  We'd love to speak with you.  Just give us a call at 520 795-7446 and we'll come running!