Custom Canvas Prints. Beauty & Durability
Photo Prints and Family Prints are Specialties
Choose From University of Arizona Logos
Multiple Sizes Available
Licensed Products
Choose From University of Arizona Logos
Multiple Sizes Available
Licensed Products
Award winning custom canvas prints. Ink and technology produce the best available framed, canvas print and Giclée print. No better canvas Giclée print available for fine art printing. We also offer the EZpix, an inexpensive and revolutionary way of displaying your photographs and artwork.

Everything printed and assembled on-site!
Why Do We Use a Special Twelve Color Printer Giclée Printing System for Custom Canvas Prints?
A standard inkjet printer uses four process colors. These consist of black, yellow, cyan and magenta. So why do we use 12 colors. As an example magenta and yellow ink are used to produce red. We use red ink. Another example. . . instead of using 20% black to produce gray, we use gray inks.  We approach other hard to reproduce colors in the same way. The result is a spectacular print.  The system demands absolute calibration and a unique canvas that matches the performance of the ink. A 99 year certificate is available with each project.
Even Our Framing System for Giclée Custom Canvas Prints is Unique!
We use tension bars to add rigidity to the frame and a unique stretching process for framing. Resulting in …. no stretch marks (a common problem in framing) and the frame is kept square.

Inexpensive Custom Canvas Prints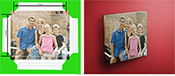 EZpix is an exclusive Graphic Impact product where your photo prints or artwork are printed onto a durable canvas-like product and folds easily into a gallery wrap piece of art.
What is a Giclée Canvas Print?
In giclee printing, no screens are used and therefore there is no visible dot screen pattern. The image has all the tonalities and hues of the original painting. An industry state of the art, twelve color printer is used to produce these prints. Extra large prints of up to 4ft x 8ft are available.

Questions? Just talk to one of our designers at 520 795-7446.