Photopolymer Signs are One Piece Construction. Custom Designed by Graphic Impact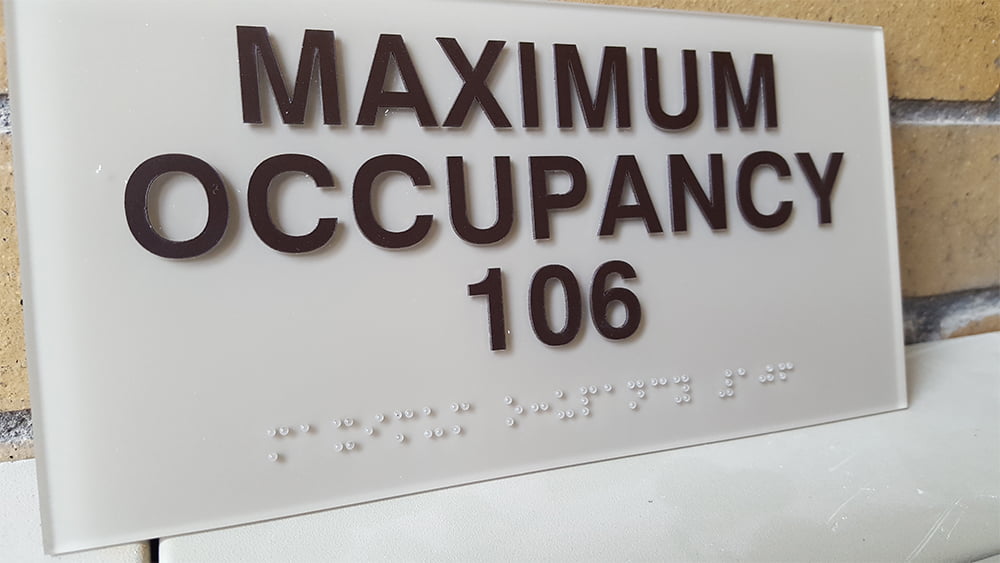 To manufacture photopolymer signs an acrylic photopolymer is directly adhered to a phenolic sign base to create a high quality, environmentally friendly product. The substance that the photopolymer is adhered to varies but is normally a PVC or acrylic material. The one piece construction leads to a very stable design. The background is painted and the raised area is either printed or covered with vinyl making sure that the contrasting colors meet ADA specification. Our system specifically accepts ADA (raised characters and Braille) or graphic panels that can be completed with full color digital imaging, paint or any other standard finishing techniques. These photopolymer signs are suggested for interior use only.
Since photopolymer signs have no attached letters or raised characters to pull or detached by curious passersbys. This is perfect for high-traffic environments such as hospitals, municipal buildings and hotels. Photopolymer signage will also withstand damage from handling and general cleaning.
In these applications, clear, consistently branded signage and specifically photopolymer signs play a key role in communicating professionalism, organization, and concern.
Comparing Photopolymer Signs and Raster Bead
Both are perfectly acceptable methods for fabricating ADA signs. And both have distinct advantages. Raster Braille signs are the most efficient method for producing short-run signs. If you need fifteen signs in a hurry Graphic Impact suggests raster bead or printed ADA signs. Both types can be digitally printed in your specified color and full color background.
One distinct advantage of photopolymer signs are that they are "top-coated" with paint. This seals the entire surface of the sign. This can be helpful in hospitals and other facilities where rigorous cleaning is required.
Graphic Impact has all three technologies on-site and we manufacture all of our own signs. By dealing directly with the manufacturer, we are in the best position to suggest the best solution.
Questions? Just talk to one of our designers at 520 795-7446.
Questions? Just talk to one of our designers at 520 795-7446.
Proudly Serving the Areas of Tucson, Marana, Oro Valley, Vail, and Our Clients Across the Country