Raster Braille Signs for ADA Compliance
Raster Braille Signs for Compliant ADA. In House Design Support is Available
Raster Bead ADA Signs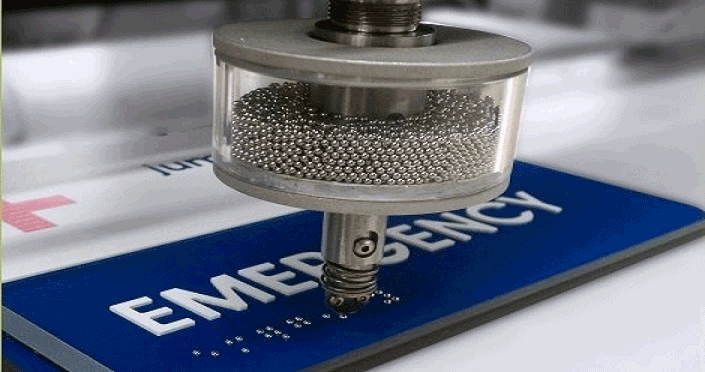 Raster Bead ADA. Interior and Exterior Applications.
This blog discusses ADA compliant signs utilizing raster bead technology. An acrylic or metal braille dot is injected into the substrate (in this case acrylic).
Any ADA Design
This post discusses the advantage to being able to produce almost any design and fabrication in full color with no minimum purchase necessary
Architects Most Chosen Sign Type
Raster Bead Technology is quickly gaining the support from architects across the country. Why? Faster delivery times than previously available.
ADA Proven and Accepted
Proven and Accepted Process for Compliant Braille.

The Raster® Method has quickly become the preferred process for producing ADA-compliant Braille. 1-2 business day delivery for most projects.
Architects most requested ADA compliant technology in our industry
Many architects and designers are now requesting the Raster Braille process for ADA compliant signs. Raster Braille bead signs use a combination of pressure inserted domed Raster Braille beads and applied laser cut letters with tactile elements.
The technology behind raster bead
The braille is formed by drilling a hole and inserting a small plastic or metal bead. Here are the ADA Specifications for your Raster Braille ADA Signage:
Tactile characters must be accompanied by Grade 2 Braille.


Braille shall have a domed or rounded shape.


Braille shall be located below the corresponding text.


If the text is multi-lined, braille shall be placed below the entire text.


Braille shall be separated by 3/8 inch (9.5 mm) minimum from tactile characters, raised borders, or decorative elements.


Braille is required to be lowercase. The indication of an uppercase letter(s) shall only be used for proper nouns and names, individual letters of the alphabet, initials, acronyms, or before the first word of sentences.


Dot Height: 0.025-0.037 inch (0.6-0.9 mm)


Dot base diameter: 0.059-0.063 inch (1.5-1.6 mm)


Distance between any two dots in the same cell, center to center: 0.090-0.100 inch (2.3-2.5 mm)


Distance between corresponding dots in adjacent cells, center to center: 0.241-0.300 inch (6.1-7.6 mm)


Distance between corresponding dots from one cell to the cell directly below, center to center: 0.395-0.400 inch (10.0-10.2 mm)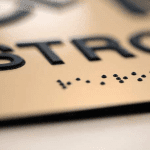 Even more benefits to Raster Bead ADA Signs
Even more benefits to Raster Bead ADA Signs:
Signs can be designed with a full-color background and even a raised logo. Each sign can have a different background and can be laser cut to any size and shape. This is an excellent option if you think that you'll be adding signs continuously. Since there is no minimum sign requirement when purchasing, it is a perfect choice for small offices and facilities.
We look forward to working with you. Please call us at 520 795-7446 to discuss your requirements.
Questions? Just talk to one of our designers at 520 795-7446.
Proudly Serving the Areas of Tucson, Marana, Oro Valley, Vail, and Our Clients Across the Country