Manufacturer of All Types of Signs
Full Color Printing and Vinyl Lettering of Signs
Dasher boards are used in ice hockey for sponsors.  Graphic Impact fabricates these advertisements with a special self-adhesive vinyl which …
Dasher boards are used in ice hockey for sponsors.  Graphic Impact fabricates these advertisements with a special self-adhesive vinyl which …
Signs carry visual messages. Custom printed signs, vinyl lettered signs, lasered and routed signg and all types of three dimensional signage. Large volume orders, specialty products and quick deliveries excite us.

Cut Vinyl Signs Available for a Number of Different Applications
Cut vinyl is a specialty and we have over 100 vinyl colors in stock. Reflective for night time use, translucent for backlit applications and decorative metallics are a few of the available types.
Full Line of Cheap Signs Ready Next Day
Our technology allows us to produce coroplast, foam core, and posters at rock bottom prices. We do not sacrifice the vividness of colors, the high resolution of the prints or outdoor durability. Because you deal directly with Graphic Impact, the manufacturer, you benefit by receiving this lowest price.
Printed Coroplast Signs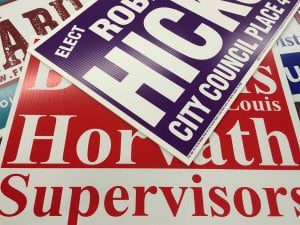 Known by many names, Corex Signs, Coroplast Signs or Corrugated Signs. these signs are very inexpensive. They accept full color printing very well and are used for tee box signs, election signs and retail signage. You will also see these same signs used as real estate signs in Tucson and almost any special event signage you see throughout town. There is limited exterior usability but should hold up well for up to six months. You will be pleased with the full color quality of these custom coroplast signs and how inexpensive they are. Check here to find out more about our flat bed printing method for custom signs that makes this possible. There are no minimum quantities that are required and our maximum size is 4ft x 8ft. Additionally, coroplast signs can be cut to any shape.
Again, this is the least expensive sign material that we have available.
Gator Board Signs for High End Interior Signs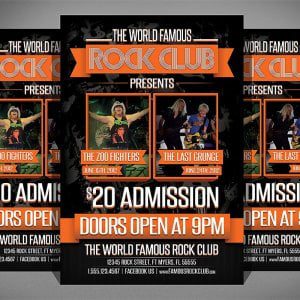 These custom signs have a clay based coating and a styrene foam on the inside. The smooth finish of gator board signs accept a high resolution flat bed print or we use an ultra high resolution print adhered to the gator board custom sign and then laminated. The maximum gator board print is 4ftx8ft.
Gator Board is also a very popular material used for fabrication indoors and outdoors. It comes in a variety of thicknesses up to six inches. When routed to a specific shape and then painted, they are often seen as raised letters on the outside of buildings and as logos over reception desks. Graphic Impact has the capability to print directly onto the material in photographic resolution and colors. Because of the material's appearance, it makes it ideal for trade show displays and point of purchase signage.
Printed Acrylic Signs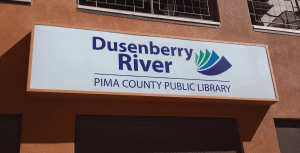 Acrylic signs are printed and can be routed or lasered to any shape. There are two major applications for the material. First backlit signs. In this case we print signs directly, in full color onto a white or clear backlit acrylic. Since the ink is translucent, the vivid colors show through at a very high resolution. These custom signs can me seen in major department stores and airports.
The second use of acrylic is for point of sale sign projects. When using white acrylic, it can be custom colored or printed with a full color sign print. We can laser cut or route the material to any shape and size. Acrylic is also available is a large number of colors.
We will help you select whether we fabricate with printing or cut vinyl and select the method for acrylic backlit custom signs and cut vinyl signs for any application.
Printed Custom Real Estate Signs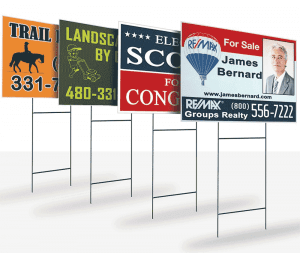 We are the technology leader and it is this technology that brings you increased resolution, brighter colors, and more economical prices. If you're in the RealEstate business you probably know how frustrating it can be when there are minimum quantities necessary or when as a builder you only want one directional sign.Well, all that's changed now. Graphic Impact can print full color, outdoor durable colors directly to aluminum with sizes up to 4ft x 8ft. The resolution is more than photographic quality and you'll be more than pleased with how vivid the color can be.

Directional Signs, Monument Signs, Sign Face Replacements
We have extensive knowledge in the corporate wayfinding field, the newest fabrication techniques and the requirements for zoning and permitting. Call us for a free quote, survey and detailed review of your requirements. Call or visit our showroom where you'll find creative and experienced customer service people that are eager to help. See Graphic Impact First for All of Your Signs We'll be there when you need us. After 24 years in business we've earned our reputation. Check us out! We have done business with over 14,000 companies in Tucson. You've probably heard of most of the larger ones. But probably not the smaller ones. The ones that we've helped make successful. So come on in, pull up a chair and let's see what we can do to help make your next project a winner.