Custom Wood Plaques. For That Special Achiever or Donor
We digitally print, in full color, directly onto natural wood. The combination of laser engraving and durable full color printing …
This lasered plaque is not in color. Rather it is a demonstration of the capabilities of high powered, high resolution …
There are times that Graphic Impact fabricates things that other companies just can do. In this natural wood is first …
Graphic Impact has a great line of plaques and awards. Including laminated wood plaques! Made possible by our over 25 years of experience, and technology that brings new products to the marketplace.
The Difference Between a Laminated Plaque and Natural Wood
Our custom wood plaques are a traditional choice for recognition awards.  The lustrous wood tones of our walnut plaques, oak plaques, maple plaques and rosewood plaques form unforgettable wooden plaques that allow ample area to express your message and graphics. Available in a variety of wood materials to fit your needs and your budget.  From eco-friendly bamboo to solid walnut find the perfect wood product. We offer bamboo, cherry, birch, walnut, red alder, and maple for personalized gifts and awards.
Reasons Your Choice of a Wood Plaque is Important
Here's a check list to use when selecting and ordering your award …
Outstanding achievers deserve outstanding awards.
Natural wooden plaques should be unique, not purchased off the shelf.
Be sure to recognize both the recipient and the giver of the recognition award. If the award is going to a donor which is a company or organization and a logo is involved, make certain that all logos are used correctly.
Some larger donors give to a number of causes. Remember the wooden plaque that you select might be hanging next to others. You should make sure that yours is the one that will stand out.
Different Awards, Different Technologies Used for Making Wooden Plaques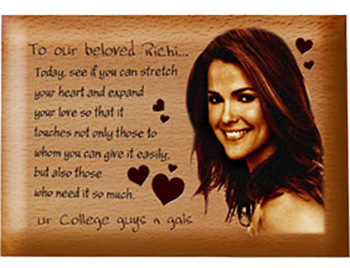 Your wooden plaques can be
lasered, routed and printed
in full color.  Perpetual plaque styles are also available.  Exclusively from Graphic Impact we can also print a raised, three dimensional  logo in full color.  A great look and a truly unique award.
These wooden plaques offer sophistication and elegance to any recognition to any recognition or occasion.  Standard sizes range from 4×6 inches to 16×20 inches, but a number of shapes are available and almost any size.
At Graphic Impact we take wooden donor plaques seriously.  Although laminated plaques can be from the web quite often, we hope you will take advantage of our over 25 years of experience and visit us to discuss your requirements.  Please contact us at 520 795-7446 so that we can discuss your next project.