Sports Signage, Custom Shirts and Much More
In Sporting Events, Our Clients Use Us as a Single Source. It Makes Since! Since We are the Manufacturer, We Will Always Find Away to Meet Those Tough Deadlines.
We have produced sports signage for PGA and LPGA event, college bowl games, professional baseball teams and many of Tucson's premier events. Little league teams are some of our favorite clients as well as many club sports. Our products include coroplast signs (T-Box Signs), printed Foam Core Signs for traffic control and metal signs. We will produce your name tags and your ad specialty items such as logo'd pens and key rings. And we have the ability to produce registration forms, brochures; and credentials (when necessary)
Banners
Sidewalk Signs
Street Banners
Custom T Shirts
Traffic Control Signs
Posters
Photo Reproduction
Printing of All Types
Plaques and Awards
A Frames Grab Attention for Sporting Events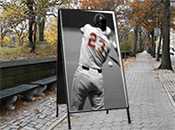 Graphic Impact fabricates "A" frames that will grab attention. A mobile display to brand advertise and point directions. Panels are easy to change.  These are full color with fantastic outdoor durability. We make 10 varieties.  And they can be any size or shape you wish. Metal, wood, or plastic.  When it comes to sports signage, this is a great economical choice.
Looking for that special award for team participants or sponsors in your sports events?  Graphic Impact plaques are made to your specification. These are lasered plaques, engraved plaques, or routed plaques. Custom fabricated with logos, personalized name plates and the right look to put small on everyone's faces.. These technologies allow us to complete your design to the smallest type style or the finest detail of your logo. Be sure to visit our large showroom.
Design assistance available.