Custom, Printed Hoodies at an Economical Price
Our Goal is to Provide You with Quality
Multiple location Hoodie Printing by Graphic Impact will fully customize your Hoodie. Print on front, back, shoulder and sleeves. This …
Multiple location Hoodie Printing by Graphic Impact will fully customize your Hoodie. Print on front, back, shoulder and sleeves. This …
Printed hoodies and embroidered hoodies show off your fan loyalty and favorite design! Our printed hoodies, in various colors, are perfect for everything from working to lounging. These cozy printed hoodies are perfect for cool nights, and when our days turn cooler. You'll love the extra warmth that our printed hoodies will bring you. Graphic Impact knows that our customers love hoodies! We also know that sweatshirts can be expensive, especially when they are purchased in a retail store. So, why not skip the retail part and design your own custom printed hoodies with full color photos and University of Arizona logos right now?

Concerns with Screen Printing
Screen Printing and most other direct to garment (DTG) printing systems apply ink directly on top of the shirt. Our printing system first automatically treats the fiber of the shirt (pre-treatment) to be receptive to our water based inks. When applied, the ink then saturates the fiber in full color. These inks are 100% non-hazardous, toxin-free and adhere to the strictest human health and environmental standards. As a water-free printing system with no need for any external processes such as pre-treatment, steaming and washing, our biodegradable ink and energy saving process allows Graphic Impact to use the most eco-friendly printing solution in the market.
Did you know that the number one problem in textiles is water pollution?
Did you know that the amount of water used in conventional dying and textile print processes can fill the Mediterranean Sea completely every 2 years!
Did you know that the clothes we wear and the textiles we use contain toxic materials that end up in our water resources and on our skin?
There are Now Suggested Standards for Infant and Youth Textiles and Our System is the Only One That Meets Them
We meet the strictest industry standards as defined by Oeko-Tex 100 safety applications for infant wear, Global Organic Textile (GOTS-3V), Residues Standard List (RSL) and the American Association of Textile Chemists.
Design Your Own On-Line
Here Are Some Examples From Visitors to Our Design Center. Click on One Below to Get Started or Visit
E-Commerce Site
to See Other Products to Design On-Line.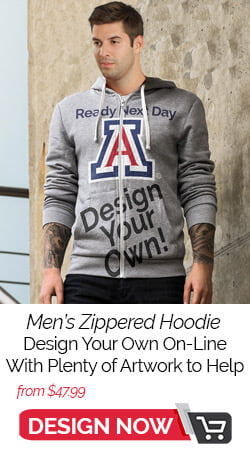 Questions? Give us a call at 520 795-7446