Name Tags & Badges. In-House Production!
Graphic Impact produces name tags at any size or shape, full color or laser, and without minimum quantities. You'll notice a big difference in quality, thanks to our team of experts and our latest technology producing the highest resolution.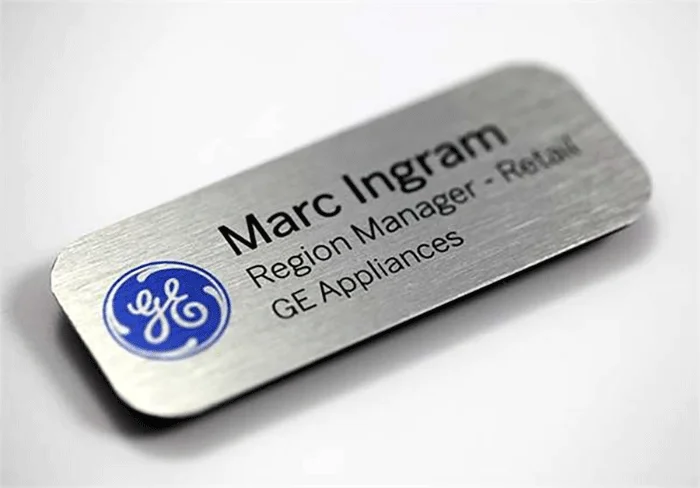 Name Tags and Badges of All Types
Graphic Impact Badges are Printed in Full Color or Lasered. All Without a Minimum Requirement or Get Ready Charge. All Produced With the Highest Resolution and Attention to Detail That the Industry Has to Offer.
Learn More About Different Types of Name Tags
Name badges play a large role in creating a connection between the public that has been lost since the onset…
Name badges are a direct reflection on you and your company
Show off your brand's style with our name badges that are available in plastic and aluminum. We are providers of Tucson produced, printed full color name tags, or engraved name tags. Because of our capabilities we can fabricate these name tags to any size and shape. Prices are very economical because our magnetic name tags and name badges are used by some of the southwest's largest companies. You will benefit from volume pricing.
Graphic Impact fabricates three different types of name tags
Full-color custom name tags.  These custom name badges can be printed in any size or shape.  Digitally printed or sublimated there is no minimum order requirement.  Consider supplying us with the highest quality artwork so that it will be available for larger projects such as signs and banners.
Lasered engraved name tags are an excellent choice and only the names, title, and company logo are required.  Hundreds of color combinations are available.
Metal name tags are a great upscale choice.  Aluminum and brushed aluminum can be digitally printed in full color.  Or choose engraved name tags.
More varieties and sizes from which to choose.
Included are over 200 types of plastic, metal and even wood. Intricate logos are not a problem.There are no minimum quantities required and we are always happy to provide design assistance. Our most popular lasered personalized name tags and full color name badges can be ordered directly over our website. It is important that the design and colors match the rest of logo colors and how they are used. Whenever possible, use your organization's logo.
Hint . . . Remember, printed name tags  are usually worn on the left part of the chest so that it is not covered by a handshake.
Custom ID Cards | ID Badges
Full Color Personalized ID Cards and Badges with No Minimums or Set-Up
Selecting Information
Selecting Information For Your ID Card
This post discusses the criteria for designing ID cards and badges. Founded in 1989, Graphic Impact has the experience to offer assistance in this area.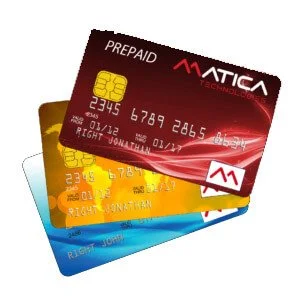 Basic Photo ID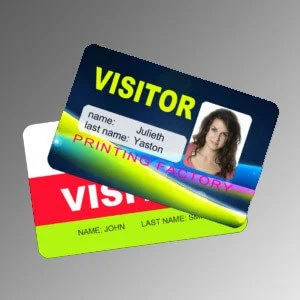 Basic Photo Identification Card
An ID badge or ID card, as a minimum, should consist of a photograph, name and company.
Importance of Magnetic Strips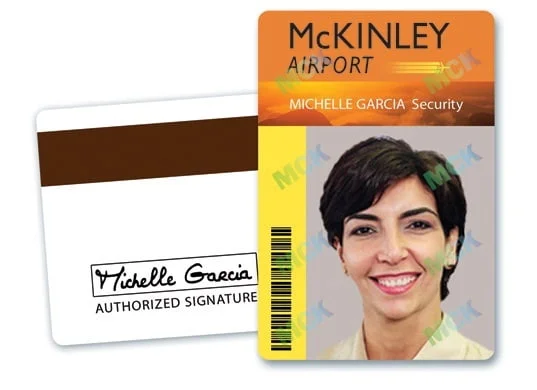 Importance of Magnetic Strip Cards
Magnetic strips: The card holder information is encoded on a magnetic strip readable by a magnetic strip reader.
What types of companies and organization are using ID Badges, ID Cards, Name Tags or some of each?
These days it's difficult to find a company or organization that doesn't make use of Photo Identification Cards Photo Identification Badges, Security Badges or Name Tags. In the work place these are becoming more and more common. Having a photo ID card is the perfect way to let others know who you are whether at the work place, on business trips or at business functions and exhibitions.  The good news?  Graphic Impact fabricates all of these in-house and there is never a minimum or set-up charge.
Retail – Loyalty Cards, Gift Cards. With our help, producing nice looking Gift Cards is quite easy.
Corporate – Access Control, Staff ID, Visitor Information. Who is it? An employee? A visitor? Is the individual in front of you allowed to enter? A simple ID card could solve this problem. These sorts of visitor ID cards are easy and quick to produce.
Entertainment/Clubs/Hotels – Casino Cards, Club Membership Cards, Hotel Cards, Event Badges. Prepaid casino cards are very similar to credit cards except that the credit card's limit is determined by how much cash is loaded onto the card ahead of time.
Transit/Transportation – Transit Passes, Discount Passes, Parking Access, Toll Cards. Various public transportation companies are offering pass programs for their frequent travelers and commuter.

You want to personalize from a blank white card or add personal data on a pre-printed card with or without encoding ?
Education – Student ID Card, University ID Card, Visitor Identification Card. As schools are getting bigger the demand for security rapidly increases. An ID card for students on campus, employees and temporary visitors can be done easily and cost effectively.
Government – National ID, Driver License, Vehicle Registration Card, Passport/Visa, Voter Registration Card
Healthcare/Insurance – Hospital Visitor ID, Patient ID, Insurance ID. For security reasons, hospitals are providing an ID card to each of their patients. Not only the personal, alphanumeric data are printed on the card. Full color images and the individual medical data incl. history.
Telecommunications – GSM Cards, Pre Paid Cards. Prepaid cards today are used everywhere as an unbanked alternative to a checking account or banking card. Graphic Impact's comprehensive product portfolio offers card production solutions for a variety of card specifications and production requirements.
Financial – Credit & Debit Cards, Pre Paid Cards. Prepaid cards today are used everywhere as an unbanked alternative to a checking acount or banking card.