Acrylic Awards Are Our Most Popular Recognition Product. Laser Engraved with Full Color Images and Photographs. Full Color | Raised Logos | Any Shape or Size
Acrylic Awards
Graphic Impact produces acrylic awards that you can't see anywhere else.  Here textured ink and lasers are used for a …
Graphic Impact designed, produced and install a Donor Wall for Banner Health. The wall allows the client to easily add …
Awards designed and fabricated by Graphic Impact are given out annually.  Laser cut and printed on the reverse side of …
Acrylic Awards are an excellent and elegant way to appreciate an employee for excellent service, or a client for meeting sales goals. Graphic Impact, located in Tucson, AZ offers a complete line of beautifully designed and affordable awards that will fit into almost any budget. From a custom cut 3/4-inch, full color award, to the simplest coaches' awards, we have the perfect acrylic award for your next presentation.
Advantages of Acrylic Awards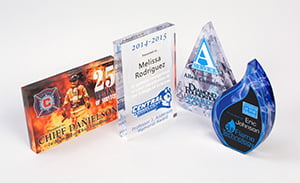 Acrylic Awards are shatter resistant and provide almost the same look as glass or acrylic awards at a fraction of the price. Acrylic is resistant to many elements, including sunlight, rain, snow, pollutants and many chemicals. Because it's a thermoplastic, it can be heated and formed into many different shapes. Some of the styles we offer include colored awards and even metal accent pieces in contrasting colors. Graphic Impact also offers wall plaques. And acrylic wall plaques hang on the wall or stand on desktops.
Why are acrylic awards so popular with our customers?
Acrylic. The exclusive characteristics of this material is that it's one of the most optically clear materials available, even more so than glass, and it weighs about half as much. It's resistance to sunlight, rain, snow, pollutants and many chemicals make it a very versatile material. Heating and forming it into different shapes is easy because it's a thermoplastic. We use powerful lasers to precisely cut acrylic into custom shapes and sizes. Then we print the award in full color and can even add a full color logo. It's great to know that you don't need a large budget to make a big impression at your next presentation.
These acrylic awards will be enjoyed for years to come as a constant reminder of the recipient's recognition.
Questions? Please contact one of our designers at 520-795-7446. Graphic Impact, located in Tucson, is a locally founded and operated company.