Men's Basketball Championship Record board
The signage located at the back of McKale Stadium is an impressive structure that spans over eighty feet. It is constructed using ePanel, a durable and weather-resistant aluminum material that ensures its longevity. This signage stands as a tribute to the remarkable achievements of the University of Arizona men's basketball team. What sets it apart is its ability to adapt and showcase the team's record-breaking accomplishments after every event.
The combination of digital printing and vinyl lettering utilized in its design allows for prompt updates, ensuring that the team's successes are accurately displayed for all to see. This prominent display not only showcases the team's achievements but also serves as a source of pride and inspiration for players, fans, and the entire university community.
Men's Football Locker Room
Welcome to the University of Arizona football locker room, where every detail has been carefully designed to attract the best student-athletes from around the world. Graphic Impact, a trusted partner in this endeavor, is proud to have played a role in creating an inviting atmosphere. The signs above each seat are made of durable acrylic and proudly display the name and number of each player. These signs can easily be replaced to ensure that they always reflect the current roster. You may recognize this high-quality material from outdoor monument signs or even at locations like the Pima County libraries.
At the bottom of each seat, you'll find the iconic Arizona block "A," a symbol recognized by fans and athletes alike. Our application method is simple and efficient – using Ready To Apply (RTA) technology. This allows for easy installation, with custom sizes, shapes, and colors available to meet your specific needs.
We understand that every program is unique, which is why there are no minimum order requirements when working with us. Whether yours is a single application or a requirement for high volume, we are here to provide you with exceptional service and top-quality products.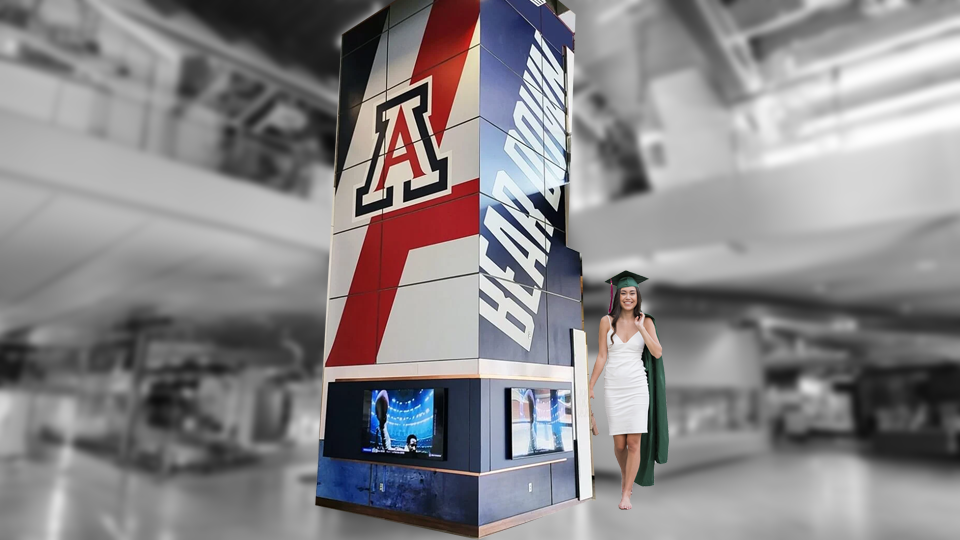 A wrapped Elevator Shaft In the Lowell-Steven Football Facility
Custom wraps are an often overlooked but incredibly powerful tool for boosting brand visibility. They provide businesses with a unique opportunity to showcase their logos and brand messaging in a captivating and engaging way. Whether it's applying premium vinyl wraps to elevator shafts, shown in this example, vehicles, walls, or any other surface, custom wraps offer endless possibilities for effectively promoting your brand. These wraps can transform ordinary spaces into visually stunning displays that grab the attention of potential customers and leave a lasting impression. They offer a creative and innovative solution for standing out from competitors and making sure your brand message is seen and remembered.
With these innovative and creative solutions, businesses can ensure that their brand message is seen and remembered. Not only do custom wraps greatly enhance brand visibility, but they also serve as a highly effective marketing strategy. So, whether you are looking to promote your brand in a crowded marketplace or simply want to make a bold statement, custom wraps are an excellent choice.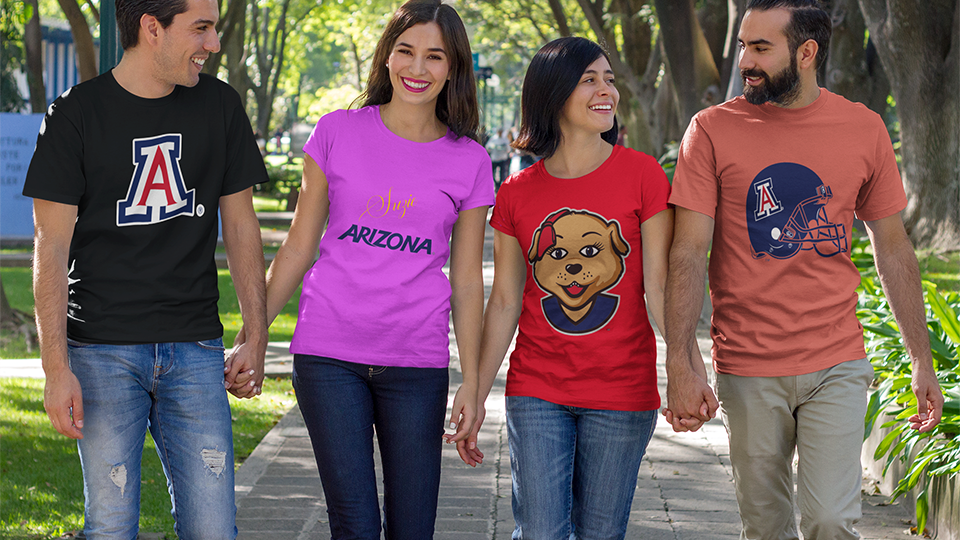 Design your own university of Arizona apparel
Graphic Impact provides an innovative solution for those who are tired of spending time sifting through racks of shirts in search of University of Arizona apparel. Instead of settling for generic options, why not design your very own shirt online? With a vast selection of approved logos and trademarks to choose from, you have the freedom to create a customized piece that truly reflects your personal style. Not only can you select from a variety of colors, fabrics, and designs, but you also have the option to choose between short-sleeved t-shirts, long-sleeved t-shirts, hoodies, and sweats.
The best part? There are no minimum purchase requirements or setup fees, making the process even more convenient. In case you need any assistance along the way, rest assured that our customer support for YOURCUSTOMIZEDPRODUCTS.COM is truly top-notch and dedicated to ensuring your satisfaction every step of the way. So why settle for mass-produced clothing when you can design your own unique University of Arizona apparel effortlessly? Explore Graphic Impact today and bring your personalized fashion vision to life.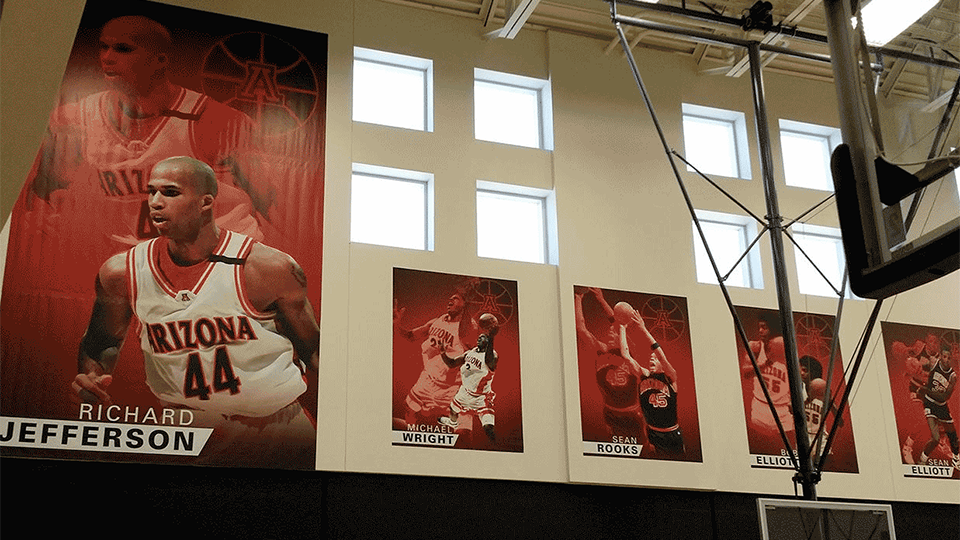 The Richard Jefferson Gymnasium
Graphic Impact was instrumental in transforming the Richard Jefferson Gymnasium into a visually captivating space through the addition of stunning photographs and designs.
With our extensive range of materials, including banners, aluminum, and brushed metal, we were able to bring these visuals to life. Using our advanced printing technology, we were able to produce high-resolution images on a variety of materials and in different sizes, resulting in visually striking displays that demand attention. Our metal prints in particular were carefully engineered to withstand the rigors of both indoor and outdoor environments, ensuring that our artwork delivers the utmost quality to our customers. Through our expertise and in-house capabilities, we pride ourselves in creating durable and visually stunning displays that enhance the aesthetic appeal of any space.
Special Projects That Start As An Idea And Become a reality
Graphic Impact is the University of Arizona's trusted partner when it comes to bringing concepts and ideas to life within tight timelines. Recently, Graphic Impact was given the exciting challenge of creating larger-than-life aluminum logos for halftime and game parades on the football field. The goal was to create impactful visuals that would captivate audiences while also ensuring durability and maneuverability. With our unparalleled expertise and unwavering dedication, Graphic Impact not only met but exceeded expectations by successfully bringing these logos to life.

At Graphic Impact, we take immense pride in our ability to accomplish our mission, regardless of the scale or timeline. Our commitment to delivering outstanding results shines through in every project we undertake. With over thirty-five years of experience as a local family company, we have built a solid reputation for excellence.