Banners are an effective tool in building a brand and growing your business. Due to the success of banners as a branding tool, it is a good idea to know why they are important along with your banner style options. We mention all of these together because, most of the time, how the banner will be used, the printing method and finishing choice can all affect the brand of your company and how it contributes to the success of your business.
There are certainly other factors involved in the banner design decision but we are going to focus on banner attributes, and some considerations related to the design style.
Do you go with vinyl or fabric? What do you need to know about the design, aesthetic, and durability of the banner? Read on for all of the details.
Vinyl Banners As a Choice
Vinyl banners are a standard tool in the business toolbox. Vinyl banners are popular because they are affordable, easy to use, and have a proven track record. So, what type of vinyl banner "textures" can you expect to use?
Smooth – With a viewing distance of over six feet, you will not notice a texture to the material.
Resolution – Selecting the highest resolution technology will be make a significant difference in the quality of the look of the banner.
Mesh – Using mesh will have an affect on the look of the banner. But it can be be a necessity in windy areas. Because of the small holes in the banners, only about 50% of the printing area is covered.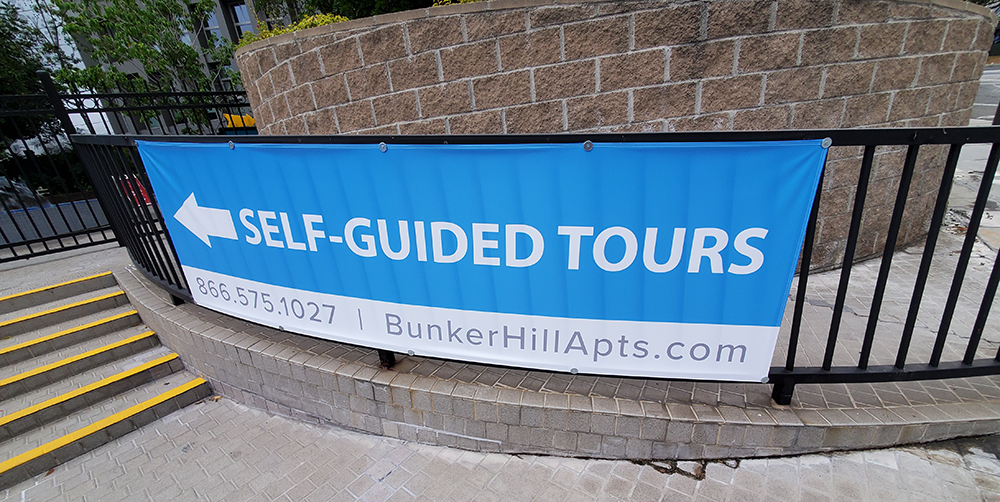 Fabric banners are popular thanks to their ability to provide a look & feel that vinyl banners can't really produce. Certain aesthetics decided on during the design process are best achieved using these types of textures on the banner:
Porous/Translucent – This choice allows light to penetrate and is great for times where visibility on both sides of the banner is important. Used mostly with graphics.
Rough (Used) – An option that is found on fabric banners made of material such as canvas or burlap (as just one example). It can deliver a unique look to the banner based on your design needs.
Rustic – While materials such as burlap can be used here, the idea is to use a fabric banner material that can be distressed enough for an aged look.
Indoor and Outdoor Banners
When you get a banner printed, it's going to be used indoors or outdoors. Depending on the environment where it will be placed, there are a number of factors to consider to best determine which banner style or texture you will choose, what to expect from those banners, and what you can do to maximize the use & effectiveness of the banners.
Take a look at some indoor vs. outdoor banner considerations that will help you make the best decision for your project:
Indoor Banner Considerations
Multi-Use vs. One Time Use – When it comes to indoor banners, you should determine its usage. Will the banner be used in multiple locations? Will you need to move it from place to place? If so, go with a banner that can travel easily and be durable enough to withstand any wear and tear during travel.
Include More Information – Since this banner is indoors, your intended audience will likely have more time to read and consider the information on it and even interact with the banner.  Consider including informative elements such as your social media handles or a QR code that people can scan.
Size – An outdoor banner obviously needs to be large.  However, the size of an indoor banner can vary depending on the size of the available space.  Make sure to measure your available space properly for your indoor banners.
Outdoor Banner Considerations
Sun Exposure – The sun is an important element to keep in mind when selecting your banner material. Vinyl banners are a good choice to handle more sun exposure
Wind – If your area experiences high winds on a frequent basis, you may want to consider a mesh banner as they tend to better withstand higher winds.
Rain – If you live in an area with high amounts of rainfall, a vinyl banner might be the best option as it holds up better against rainy conditions.
Size – In addition to thinking about the size of your banner, you also need to think about the sizing of the font and graphics that will be placed on your banner.  Outdoor banners need to be visible from longer distances, so having larger fonts and/or graphics are an important part of making sure potential customers see it.
Banner Alterations/Modifications &Design Considerations
Regardless of the choice of banner material, texture, or indoor vs outdoor banners, there are still other banner design considerations. You have options that can give your banner a unique look that also adds variety and exclusivity to its aesthetic appearance.
Here are a handful of banner design modifications you can make to add to your banner experience.
Die-Cut – This gives your banner a unique look, but it can be difficult to use on certain fabric banners such as polyester stretch banners.
Different Shapes – Banners are not limited to only being a rectangle. Try other unique shapes to stand out to the public.
Depth of Field – Try blurring the background of your design or using techniques like Droptix varnishing as they enable the main elements of the design to "jump off" the banner.
Gradients – This option enhances the composition by including multiple brand colors. Gradients can also be used to lead the eye of a viewer to a specific part of the banner. Let your creativity take over!
We've shared a lot of recommendations about banner textures, banner styles, and design considerations. The final decision starts with creativity that will move the needle for the experience you are creating or the results you hope to achieve. Have thoughts or questions about banners? We'd love to help.