Direct to Garment Printing
Direct to garment (DTG) is a method of printing custom designs onto a fabric T-Shirt.   The method uses a printer to apply the ink to the shirt. The result is a precisely printed design with a high level of detail. Water-based ink is applied in a single layer that quickly absorbs (with the help of a pre-treatment fluid)  into the shirt's fibers.  This offers a softer feel to the shirt than traditional techniques.  The shirt design is usually designed on a computer and is transferred to the printer as Corel Draw, JPEG, TIFF or PDF files. (these are the most popular files, but many others can be used). As little as one shirt of any design can be run in less than a minute.
Shirts are printed in full, process color.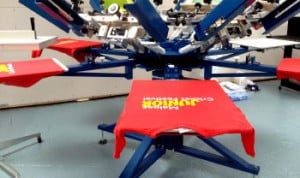 Screen printing a T-Shirt involves creating a stencil (usually called  a "screen"), and then using that stencil to apply layers of ink on the T-Shirt surface. Screen printing is a more traditional t-shirt printing method in which each color in a design is separated and burned into individual fine mesh screens. The artwork needed will many times disqualify the method since a screen must be created for each layer and each color. Ink is then transferred to the shirt through the screen.  Each color requires a separate screen.

Printing on cotton is always the best material to use for printing.   Screen printing can sometimes do a better job on polyester, nylon, teflon coated fabrics, burlap, and bamboo. It will never hurt to try a  sample first. 

It would take a book to completely cover this subject.  So here are a couple of things to get you started.  Your printer or designer can take it from there (and Graphic Impact has both).  Check out the definition of raster image and vector image. When you take a photo with your cell phone or camera, the result is a raster image. Generally speaking, you want to have the photo taken in as high a resolution as possible.  If you don't, the image reproduced will be blurry or pixelly. If you've selected DTG, this should be 150 dpi at the full size of the print.  And that's it!  If you're not sure, save as a pdf file and you're ready to go.  If you selected screen printing, the file will have to be converted to vector.  We can do that for you.  Remember, Graphic Impact is there to help.
Number of colors to be printed
If you've chosen DTG, we will print your image in full color.  The colors used are CMYK. Even if you have only selected one or two colors for your project,  CMYK is still used.  If you have chosen screen printing, inks are chosen (or mixed) to match the exact color you are looking for in your print.  For every color, the ink must be matched.  For very high volumes, therefore, and not many colors, the technology of choice may be screen printing. Don't be surprised if, when we print, thousands of shirts, we will use DTG as a proof.  So we take advantage of the economic advantage of screen printing, but use DTG to be sure the final product is as expected.
As discussed earlier, there is a substantial cost for the set up "get ready" in screen printing.  As the number of shirts being printed increases, the set up cost spreads across the number of shirts your printing. In direct to print, there is no set up cost and we do not charge one to our customers.  Each shirt (except for very large size shirts) is the same price but we do offer quantity discounts.  So here are some rules to follow.  For 1-75 shirts, one color select DTG.  Over that compare the costs of both.  For 75-125 shirts, two colors, DTG is usually the best choice.  Over that you may want to consider screen printing.  At three to four colors that number increases to 165 shirts.  These are estimates only.
Is there a deadline when your shirts are required?  This is the date that you and your printer must agree upon.  It goes without saying that the time consuming part of screen printing is first preparing the artwork (a separation for each color) and then preparing screens for printing.  This can cause costly delays for your project.  So, therefore, there are three areas that should be considered.  These include cost, preparation time, and the time required to complete your project.  Since Graphic Impact supports you with both technologies, we will give you the "straight scoop".