Custom University of Arizona T-Shirts. With all the events going on recently, and if you are a real Arizona fan, why not have the whole family make that statement? For truly unique looks, why not design your own shirts? 
Using an online custom t-shirt design tool, you can easily create your own University of Arizona t-shirts with personalized logos, colors, fonts, and slogans. You can upload your own artwork or choose from a wide range of templates to get started. Whether you want to show your support for the Wildcats, honor your alma mater, or just have some fun with fashion, custom t-shirts are the perfect choice.
6 reasons to design your own University of Arizona t-shirts
1. Show off your creativity: Designing your own t-shirt allows you to showcase your own unique design ideas and creativity.
2. Personalization: You can create a t-shirt that reflects your personal interests, hobbies, favorite sports teams, and more.
3. Pride and school spirit: By designing your own University of Arizona t-shirt, you can show your pride and support for your school. It's a great way to demonstrate your school spirit.
4. One-of-a-kind design: You can ensure that your t-shirt is truly one-of-a-kind and not something that can be found in a store.
5. Great memories: Creating a University of Arizona t-shirt can provide a lasting memory of your college years, a special event, or an important accomplishment.
6. Cost savings: Rather than purchasing a pre-made University of Arizona t-shirt, designing your own can often be more cost-effective as you can choose your own materials and design approach.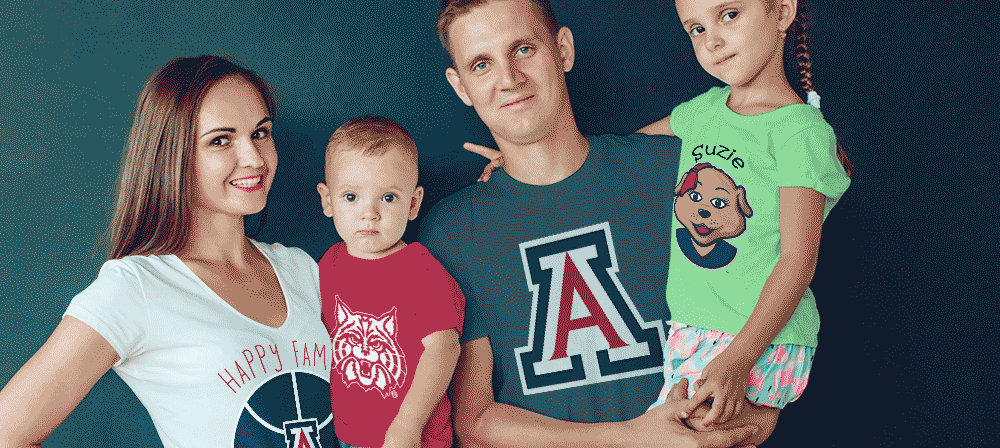 Some popular design ideas for University of Arizona t-shirts to get you started:
– Using the school's official colors (red and blue) and logo to create a classic look.


– Adding personalized text or slogans to show off your love for Arizona, such as "Bear Down" or "Go Wildcats!"


– Incorporating images of famous landmarks on campus, such as Old Main or the Bell Tower.


– Creating matching family or group shirts with different designs or colors that still coordinate.


– Sharing your favorite sports team or player, with graphics or text related to the football, basketball, or baseball programs.
In conclusion, there are a variety of ways to design custom University of Arizona t-shirts. You can design them online, send us your design, or call us at 520-795-7446.

There are also a variety of options to choose from in terms of shirt styles, colors, and printing methods. Whether you're looking for a simple design or a more complex one, our team can help you create the perfect custom t-shirt for your needs.
First, we need to decide on the style of shirt you want. We offer a range of options including crew neck, V-neck, long sleeve, and even tank tops. Which style do you prefer? Once you've decided on your shirt style, let's talk about color options. We offer a variety of colors to choose from including the traditional Arizona colors of red and blue. Do you have a specific color in mind? Now, let's talk about your design. Do you have a design already in mind or would you like some help coming up with something? Our team of designers can work with you to create the perfect design that reflects your Arizona spirit. When it comes to printing methods, we offer screen printing, heat transfer, and embroidery. Each method has its own benefits, so let us know which one you think would be best for your design. Finally, how many shirts do you need and when do you need them by? We'll work with you to make sure you get your perfect University of Arizona shirt in time for your event or occasion. Let's get started on creating your perfect University of Arizona custom t-shirt today!