A Changing Business Environment? Working from a home office, less travel outside the office, and less opportunity to experience that "touch and feel" that goes along with personal contact. Here are some ways that will broaden your scope when dealing with existing clients and prospects alike.
Ways to use Zoom and some of the advantages
Showing  visuals while discussing options with a client or prospect.
Conducting webinars that help your attendees to understand your products and uses. We find 1-4 attendees is a good number.  And why not offer incentives for those that attend.
It is a great way to introduce new products.
Offering ways other clients have taken advantage of your products and services
There is no substitute for  visuals and face to face meetings.  But many times this is just not possible.  Zoom, we feel, is our next best option.  We also take advantage of having calendars available on-line allowing our clients to set a time to meet with a product specialist.  We have set aside a private office for zoom meetings of this type and we make sure that branding is dominant in the background.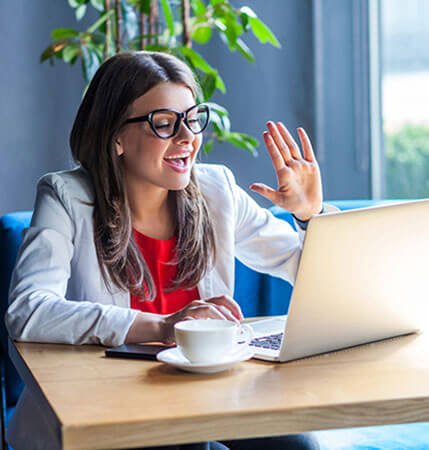 Why we are now using live chat
We rely on our website Graphic-Impact.com to educate, to receive orders and designs from our clients and to generate leads.  When browsing our website we recognized that our clients and prospects often had questions on the page that they were currently reading.  Not wanting to always reach for the telephone each time, they were looking for a  communication channel for a quick question or a price.  Live chat was the answer!  And I just hated so those pesky robots.  To us this was just a delaying tactic.  And we didn't need a person's entire life history before we would talk with them.  A name and email address was plenty.  No software is perfect, and if there was a problem, we wanted a way to reach them again.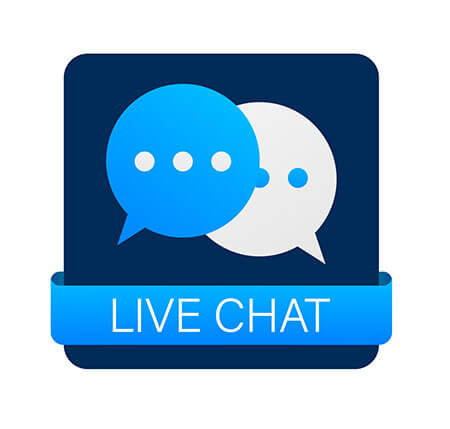 We selected a live chat software and staffed it with product and technical people along with management.  (we feel that people that only answered the telephone were not necessary) That meant that ten people overall were available.  Not able to be available 24/7, we do a superior job during regular business hours.  Like many of our customers and working from home (the new business environment) we do our best to help during off hours as well. So when ever possible, our management group turns on their live chat feature and are ready to help.
Contact us from our website
Some of us would just like to communicate with good old fashion email.  We wanted to make sure that every page that we designed offered the right options to get this done.  And there was only one way to accomplish it and that was to place the choices in the menu  bar.  That meant that every time we received a request of this type our people had to spring into action.  That means respond immediately and have the right people ready to respond.  Oh, and have the right tools available. for the task.
Designing and Purchasing Apparel
The market for custom printed apparel is $55 Billion Dollars! Wow. And the decision that is made to decorate these shirts is varied.
There was a time that we could visit countless department stores and view and touch designs to pick just "the right shirt".  But even if you were one of those people, you may feel uncomfortable in that environment now.  And buying those same shirts off the web just doesn't do it for you.  One of our choices is to design your shirt right on line.  Pick your shirt type, shirt color and there are always countless typestyles and and graphics from which to choose.  No minimums, no set-up and 1-2 day delivery and all advantages. And some think that's a lot of fun and others don't want any part of designing their own shirt.
And how about taking already designed graphic elements and fonts that will give you every thing you could ever need to develop high-quality, one-of-a-kind graphics.  Wave goodbye to "boring" and "old." Wave hello to your new creative edge.
Design elements are the glue that bonds together a complete apparel graphic. Design elements serve as the background element that brings shape, organization and composition to a winning graphic. Using these design elements, you can quickly experiment with different styles and looks simply by interchanging.
Many of us just want help.  We enjoy working with someone that has the experience to help us in our final design.  After all, if it's ready to go,  just download the design and we can take it from there.  If it needs a little tweaking, you can visit our store or use our virtual Zoom room.  Call or use our Zoom calendar to schedule an appointment. (no matter where you are).
Expanding staff to support a changing Business Environment
Working out of our homes, reluctant to leave our house to visit stores, restaurants, businesses and entertainment venues, all have an adverse effect on our economy and even more on small businesses.  To survive, no, to grow we must change the way we market and sell.  We must become more proactive and less reactive.  How do we make this transition?  If you have done the work necessary to understand who your customers are, then, it is time to find better ways to contact them.
Our answer was to expand both our sales consultant group and customer service representatives.  But this is only the beginning.  What good is it without the proper training?  This includes a) better product knowledge, b) more industry training, c) using new technology to help us contact our defined data base, and d) refining our sales and marketing skills.  We have started on this journey, and made the investments necessary for this task.
So there you have our strategy for the NEW BUSINESS ENVIRONMENT.  There's not time to feel sorry.  The opportunity is fantastic and you'll end up better and more customer oriented than ever.  Join us!