Being Successful with Political Campaign Signs
Full Color, Makes a Great Gift!

Election signs and campaign signs can take on extra significance in increasing name recognition, or getting some voters to pay a little bit more attention.  Election Campaign Signs and Much More.  Everything made in house.  We can offer cheap prices.
But why do all campaign signs look so much alike?  How does that help people who are running for office stand out?  We believe if you follow some simple rules you will make this happen.  First, include one or two full color images.  It's a known fact that full color draws up to five times more attention that one or two color.  Second keep your message large and simple with an easy to read block type style.  And finally, design a brand and stick with it.  At Graphic Impact we've helped in running a lot of successful campaigns and would like the opportunity to work with you.

What's the Secret to Using Campaign T-Shirts?
Using a full color t shirt, duplicating colors used in the campaigns signs and printed material, printed an easy to read message and image of the candidate on the front and back.  Send volunteers wearing these shirts to crowded shopping centers, stores and major event venues.  An average of over 50,000 attendees go to events, as many as 20,000 people visit shopping centers per hours and how many more opportunities come to mind? This is a simple and easy to implement idea!  Need design assistance?  Just ask.
Car Magnets Help Get Your Message Out There!
Simple full color car magnets around town will help get the message distributed.  Make sure to use your brand, incorporate vivid full color images and the strategically place the vehicles.

Election Campaign and Political Signs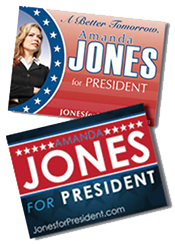 Use Graphic Impact election signs and everywhere you need to make an impression. Single or double sided signs in full color and photographic quality. Sizes up to 4×8 feet. Best prices available with 1 to 2 business day delivery.

Decals That are Full Color
Give-a-ways for supporters. Perfect for windows, vehicles, they're sure to portray just the right image. Available in permanent of temporary adhesive and manufactured by Graphic Impact.

Campaign Mailings
We do postcard and flyer mailings for election campaigns. No minimums, full color, and ready next day. We have an excellent design staff with experience in campaigns. We can help you in designing all of your campaign needs.
Copyright © 2018 Graphic-Impact.com. All rights reserved.