Full Color Banner Printing for Banners of All Types
Banner Printing in Full Color including Street Pole Banners- Mesh Banners-Fabric Banners, Interior and Exterior Vinyl Banners
Graphic Impact banner printing will help you make a huge impression at the lowest possible price. Both vinyl banners and fabrics banners are available for almost any use. Our high quality custom vinyl banners are full color and digitally printed on 13 oz vinyl banner material. All vinyl banners include heat welded hems and grommets to hang your banner.
You can see our Full Color Banner Printing Projects all over town. Over 25 years experience. These are completely waterproof, and outdoor durable for up to three years even in the Tucson sun! If you like, we can laminate your banner to last for even longer periods of time. And our ink process for banner printing is GREEN.  And check out the fabric banners that we supply. The type you see in local department stores. They have that soft feel and are printed in full color and are translucent.
The right type and right size for any occasion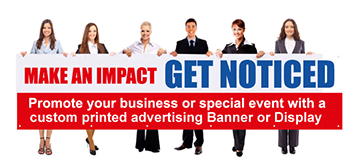 These custom banners can be used for all occasions. There is great durability outdoors, use them at conventions, for sales meeting, announce new products and anywhere you want to make a point or draw attention to your brand. Use these vinyl banners to forward any marketing message. Looking for a banner for your own use like a birthday, graduation or a family members big achievement? Graphic Impact is the place!
We offer a variety of hanging options like Grommets, Velcro and Banner Stands so you can display your banners with pride anywhere you like. Our full color banner printing product are available in any size, just ask local collegiate sports team and special event held throughout Tucson.
Design Your Own On-line
It's easy to design your own vinyl banners on-line using our on-line designer. We've got a lot of photos, clip art and images from which you can choose. If you don't see the photo you need, just ask. There's a good chance we have one. The good news. There won't be an extra charge. Now pick the template and size you're looking for add text and you're ready to proceed. If you already have a design, it's an easy task to upload it to us. Have questions? That's why we're here. Our designers are ready to help. Give us a call at 520 795-7446. Your banner printing project will be complete in 1-2 days.

Proudly serving the areas of Tucson, Marana, Oro Valley, Vail, and our clients across the country.