Political Campaign Signs.  Why Graphic Impact
A great way to improve name recognition for a candidate.
Our campaign signs are cheap!  But don't confuse our low prices with quality, durability and full color WOW factor of these signs.  Make your campaign dollars count with our cheap political signs! Our quality corrugated plastic and aluminum campaign signs come at quantity discounts for a cheap price you won't find anywhere else and they are locally produced in-house at  Graphic Impact.
Our prices are based on the quantity of signs you order and are always full color.  We never charge art or setup fees.
Therefore, for political campaigns, we suggest using one vendor. Graphic Impact. We are not a sourcing house or advertising company. We are the manufacturer. You will be dealing with the people that actually make the products. And therefore, there is no middle man and the savings are passed along to you. Everything you need for your next election campaign is manufactured in house. We are creative, experienced (since 1989) and an exceptionally strong reputation in town.
Over 25 years of local experience
Order any quantity of full color signs (even one)
Any shape
Fastest delivery
Our campaign signs can be clear-coated for extended durability
We mean any size (how about 5feetx10feet)
A few of the products available to you include:
Cheap, full color, yard signs for political campaigns
Buttons
Announcement Banners
Post Card Mailings
Full color, campaign shirts that have impact (have your campaign workers wear personalized shirts everywhere, there's no minimum)
Design assistance available
The Right Signs for Political Campaigns to Make Sure You Get the Word Out
These Signs for Political Campaigns have the most important points. Inexpensive, Full Color, No Minimums. Used as yard signs or lawn signs, along side major streets and in the 4x8foot configuration at major intersections. GET THE WORD OUT!!
Design Assistance Available
There Are No Higher Quality Political Campaign Signs and Banners Available. Longest Lasting Material!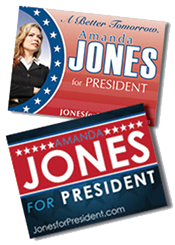 High resolution photographic quality banners that will help you stand out in any crowd. Campaign banners & signs make your political logo stand out at announcements, rallies, parades, fair booths and election day. They are easy to store, transport and put up.
Graphic Impact produces full color political signs and campaign banners for election campaigns at any size. Heavy duty banners are outdoor durable and will hold up under any weather conditions. Grommets are normally installed every three (3) feet and hems reinforced. Any quantity, no minimum required.Design assistance available.