Outdoor Signs for Business
Design | Fabricate | Help Select Material | Install
Graphic Impact will help design, has a working relationship with …
Graphic Impact, located in Tucson, Arizona supplies building signage of …
Since Graphic Impact manufactures almost everything in-house, you can rely …
Interior and exterior signs, apparel and banners for any business application
Outdoor signs for business of all types produced in-house by Graphic Impact and located in Tucson. Being an exclusive supplier to the City of Tucson and Pima County facilities benefits us when we fabricate these signs. We make sure that all of your purchases are consistent and meet with city, county and state regulations when required. Our delivery speed makes others seem slow!8
We Produce All of Our Products In House
And as such what we supply will be economical and have the quality you expect. As an example we have the capability to print directly onto almost any material.  Some examples include corrugated plastic, wood. acrylic, textiles of all types and metal. Our digital printers allow us to produce full color printing for business cards and brochures and not have minimum requirements. We hope you will visit our facility or call us soon to investigate the many ways we can work together. Design assistance available.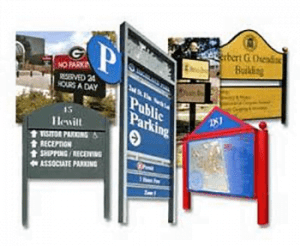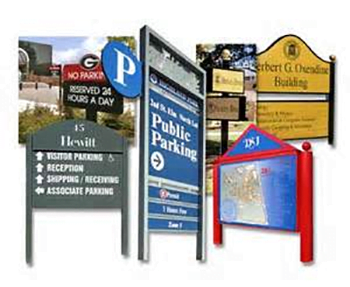 Some of the outdoor signs for business available to you from Graphic Impact:
Interior and Exterior Signs. Printed in full color directly onto the material at any size or shape.

Temporary Signs. Cheap signs that don't look like it. We clear coating all of our temporary signs to improve the durability outdoors.
Directional Signs. A special material produced with two pieces of aluminum surrounding PVC. Lasts longer than metal and is much less expensive.
Architectural Renderings printed in full color onto foam core or aluminum for outdoor use.
Banners. Now open, coming soon. Cost effective banners in full color made to any size.
Sandwich Boards ( A Frames ) Replaceable faces in full color. Extreme durability.
Lettering. Vinyl letters for windows, doors and a lot more.
Exterior Lettering and Dimensional Logos and Branding Signage. Your logo on almost any material imaginable.
Custom, Printed Shirts. Order one or hundreds! Printed in full color and can be ready next business day.
Oversize Construction Signs for Site Development
Graphic Impact produces large construction site signs using either wood or metal. They are printed full color with highly durable outdoor inks or vinyl lettered. Inks can be printed directly to the material resulting in high resolution and even more durable in outdoor applications. Very fast delivery.
Design assistance available.